2012 Nebraska State Track and Field Meet Preview—the Quest for Gold Pt. 3:




Top Girl Distance Runners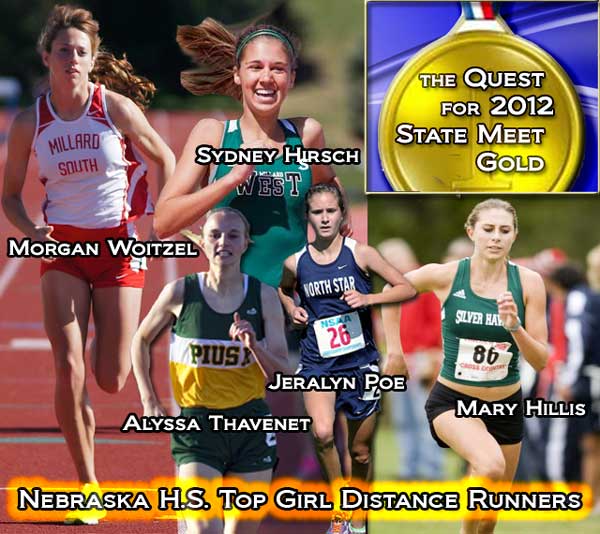 There's likely to be a couple of close finishes in the girls Class A 800 and 1600 races and a future star freshman and sophomore will look to flex their wings at the 2012 state meet:
800 Meter
Morgan Wotizel: Potential Galore
In my opinion, the most impressive freshman time or mark achieved during my five years of covering Nebraska high school track and field, was Morgan Woitzel's No. 6 all-time chart 55.76 400 meter state meet record-tying run in 2009. Only 5 other girls had ever run faster and it took her teammate Clara Nichols (400 meter state record holder)—until last year to finally beat that time. Also at that same 2009 state meet Woitzel won her 100 meter prelim heat with a time of 12.36 . The then freshman placed fifth in the finals—ahead of a year-older Breunna McCarty who would eventually move on to set the state record in 2011.
As a sophomore Woitzel continued to showcase her enormous potential when she ran a 2:14.79 in her second open 800 meter race— .06 seconds from making the all-time chart. That time still ranks as the fastest 800 meter by a Nebraska high school girl since Millard North's Emily Sisson ran a 2:14.15 in 2008! Woitzel went on to win the Class A state championship in 2010.
To date: Woitzel enters the 2012 state meet with a Nebraska season-best 2:16.98 800 meter and the second fastest 400 meter time (57.18).
Woitzel has seemingly recovered from the hip injury that kept her out for most of last season. she is also settling into her more mature physique—made more evident, a few  weeks ago, by her sub-56 seconds leg on the Patriot's state record-setting 1600 relay.
Morgan Woitzel's biggest opponent now is herself: If she can free her mind and physically let it all hang out in competition—she will turn all her potential into amazing feats on the track and have an All-American career at Nebraska.
Woitzel is my pick to win the 800 meter all-class gold at the 2012 state meet, but she had better bring her A-game to Burke because looking to take her out are talented Class A runners: Alyssa Thavenet, a junior out of Lincoln Pius X, enters the showdown with a season-best 2:17.94. Thavenet placed second in Class A at last' year's state meet; and Mary Hillis, a senior standout distance runner from Lincoln Southwest, brings a 2:19.97 season-best to the showdown. Although oftentimes the most dangerous competitor of them all is the one you never see, or in this case—the one you don't race against: Class B sophomore sensation Haley Harsin ran a 2:17-flat hand-held time this season. The Syracuse runner also came in swinging as a freshman, placing 2nd in Class B at the 2011 state meet. Young Haley Harsin is one to watch!
1600 and 3200
This should be the year that Millard West junior Sydney Hirsch claims all-class gold. The steadily improving Wildcat runner has been among the top two or three distance girls in the state since her freshman year. In addition to winning the 2011 Class A 3200 state championship, Hirsch placed second at the 2011 Class A cross country state meet.

Hirsch enters the 2012 state meet with Nebraska season-best times in the 1600 (5:08.40) and the 3200 (11:06.55).
Yet despite her success over the past couple of years, Hirsch has operated under the shadow of former Nebraska high school track and cross country great Aubree Worden.  Worden is gone. Now it's Sydney Hirsch's turn to shine!

The surefire D-1 talent is my pick to bring home all-class gold in both the 1600 and 3200:
Lurking in the wings to spoil my prediction in the 1600 are Lincoln Southwest's Mary Hillis and Lincoln North Star freshman phenom Jerylan Poe (5:11.89). 
Poe won the 2011 Class A cross country state championship and was selected 2011 Gatorade State Girls Cross Country Runner of the Year.
Hirsch's biggest threat in the 3200 will again be Hillis.
Related Links
2012 Nebraska State Track and Field Meet Preview—Pt. 2: Top Boys Distance Runners
2012 Nebraska State Track and Field Meet Preview—Pt. 1: Top Seniors