The Fastest Ever!
Volume III of the 2013 Nebraska High School Track and Field State Meet video highlights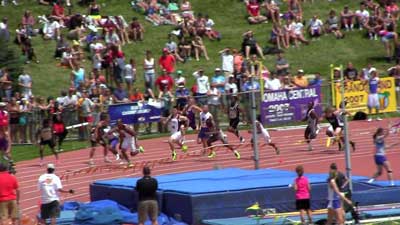 Earlier in the season when I first saw the Papillion-La vista boys 400 relay team run a 42 flat at the Millard South Invite, I figured the well-oiled team—anchored by Nebraska's fastest boy—had the right stuff to eventually break the state record this season. But what I was not expecting was for the Monarch team to destroy the previous record (41.74) by more than 3 tenths of a second. Yet that is exactly what the team of Lucas Hostetler, Jalen Allison, Nick Bartels and Kenzo Cotton did this past Saturday when they busted out a 41.40!Each one of those boys mastered their roles: starting with Hostetler nicely blasting out of the blocks and into the curve on his way to exchanging the stick to Allison, who ran a vicious straightaway on the backstretch, before he handed off to Bartels, who runs the third-leg curve as good as I've ever seen from a prep, and then…Kenzo gets the stick and runs faster than I've ever seen him run.
Hostetler, Allison and Cotton all return next season. So if they all stay healthy they could lower the their record time in 2014. That is if they can find someone who can run that all-important third turn the way Bartels can.
Bartels capped off a stellar senior season by sweeping all-class gold in both the 110 meter high and the 300 intermediate hurdles. He also ended the season as the state leader in both events, 14.42 and 38.13 respectively.
Lost in the sauce of Papio's  record relay was the fact that team Burke (Ronnell Lee, Braxton Adams, Malik Thompson and Jared Prince) turned in an all-time top ten mark with their second place finish.
Related Links
Volume II – Jacob Holtmeier: 800 Meter State Meet Record Video
Volume I – Historic State Meet Sprints Video: Kenzo Cotton 10.41 100m & Freshman Chloe Akin-Otiko 200m Records
MHN's  Final 2013 Nebraska Boys and Girls Track and Field Leaders
Final 2013 Active Athletes on the Nebraska All-Time Track and Field Charts