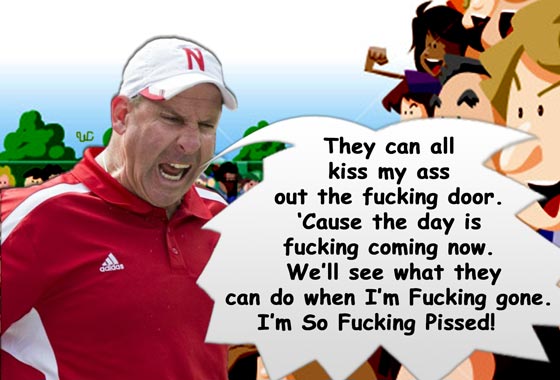 The ill-advised off-campus meeting that fired Nebraska head football coach Bo Pelini had with many of his former players at Lincoln North Star High School clearly demonstrates why he wasn't fit to be a head coach at Nebraska—or anywhere else in  my opinion.
I first learned of Pelini's meeting at North Star through emails, text messages and phone calls from several sources. My first reaction was "is the man crazy?" Why would a fired head coach hold an off-campus meeting with his former players? Nothing good can come from this, I thought.
Sure enough, according to a source, shortly after the meeting a group of Nebraska players allegedly told a NU coach they didn't want to play in the upcoming bowl game. Allegedly the coach listening to their complaints basically told them if that's what you want to do don't play. This led me to believe that whatever Bo Pelini said to his former players inside that meeting was not good.
All my source could tell me about what they learned happened at the meeting was Pelini "went off on the AD." It wasn't until the Omaha World-Herald released the transcript of a tape-recording from the Bo Pelini meeting with his former players that I learned what Bo Pelini actually said.
My takeaway from reading the transcript: I don't ever recall a fired college or professional head coach attack a university or organization in such a vulgar and classless manner. In front of the young men whose characters the university entrusted him to help mold, Pelini called Nebraska Athletic Director Shawn Eichorst a "pussy" and a "cunt," among the many other despairing statements he delivered in regards to his former boss. Most of those young men that attended the meeting and heard Pelini's crude remarks have to go back and continue their academic/athletic careers under Eichorst.
Pelini went on in the meeting to tell his former players that beloved and legendary former NU head football coach and Athletic director Tom Osborne was also forced out by the administration.
This past week, intrigued by Pelini's statement that Tom Osborne was "forced out," the Omaha World-Herald contacted the legendary coach to ask him if what Pelini said about the reason for his departure from NU was accurate.  "I wasn't forced out. I resigned. And that's the end of the story," Osborne said.  
So either Pelini lied to his former players about the reason for Osborne's departure or he divulged information that was never intended to be shared outside the inner circles. Either way it was yet another classless but predictable act by Pelini.
In my opinion the only reason Pelini told the group of players that Osborne was "forced out" was to give his former players even more reason to be anti-Eichorst.
Throughout Bo Pelini's profanity-laced remarks to his former players at Lincoln North Star High School, he pointed the finger of blame for his firing at everyone else but him. In Bo Pelini's world everyone else at Nebraska has the problem—he is just the innocent man caught in the middle of a bunch of idiots at Nebraska.
From 2003 when we first saw then NU defensive coördinator Bo Pelini run across the field to get up in Kansa State head coach Bill Snyder's face and curse him out for running up the score, after the Huskers 9-39 loss, many of us knew this guy was not quite right. In fact even though Pelini was selected NU's acting head coach for that season's bowl game after Frank Solich was fired at the end of the regular season—the embarrassing Bill Snyder tirade kept him out of any serious consideration to replace Solich as NU's next head coach. NU eventually hired Bill Callahan instead.
When Callahan was let go at the end of the 2007 season acting athletic director Tom Osborne hired Bo Pelini and took him under his wings. Osborne even encouraged former Ameritrade CEO Joe Moglia to work alongside Pelini as an unpaid voluntary assistant coach/mentor during the 2009, 2010 seasons.
Moglia wanted to get back into coaching which is what he was doing before he became a big-time Wall Street player. The arrangement with the university was supposedly a win-win situation where Moglia would learn the ins and outs of head coaching while also helping Pelini with his leadership skills. Obviously all of Osborne's class and wisdom and Moglia's leadership advice never stuck to the Teflon-minded Pelini.
Pelini continued with his attacks on the media along with his sideline blowups directed against the referees and his coaches and players, highlighted by the infamous Taylor Martinez tirade in 2010.
In 2011 Pelini was even heard throwing Nebraska fans under the bus when an F-bomb laden tape-recording of him attacking Huskers fans surfaced two years later. 
Bo Pelini's F-the-fans remarks were initially recorded after the Huskers 34-27 come-from-behind win at Lincoln against the Ohio State Buckeyes in 2011. However, the post-game recording did not surface until two years later in 2013. The context of recording was Pelini being upset at NU fans for booing the team and leaving the stadium when the Buckeyes were getting the best of them in the first half. In the recording Pelini says:
"It took everything in my power to not say, 'Fuck you, fans. Fuck all of you.' Fuck 'em…Our crowd. What a bunch of fucking fair-weather fucking—they can all kiss my ass out the fucking door. 'Cause the day is fucking coming now. We'll see what they can do when I'm fucking gone. I'm so fucking pissed off."
Oh my, what will the Nebraska fans do without Bo Pelini being around?
Turns out that Bo Pelini is nothing more than a loud and foul-mouthed bully of a coach. He teaches through intimidation (I'm going to scream in your face and curse you out if you mess up), complimented by his us-against-the-world mentality. The hook he uses to snare his prey: "I'm the only one that got your back. The media and everyone else at Nebraska is against you including the AD, Board of Regents and fans." The vulnerable are drawn in like the fanatic followers of the Rev. Jim Jones—ready to swallow the Kool-Aid, always fearful of being the one to disappoint their leader. Ultimately, Bo Pelini is why Bo Pelini could never win the big games at Nebraska.
Bo Pelini has yet to apologize for his remarks directed against Shawn Eichorst and the NU administration. Below is Nebraska University's response to Bo Pelini's remarks made at the meeting with his former players:
"The University of Nebraska is in receipt of what appears to be a transcript of remarks delivered by former football coach Bo Pelini. These remarks to student-athletes were allegedly made during a non-official team meeting at a local high school, held two days after his termination. At this time, the University cannot authenticate the transcript nor do we have an audio version of the remarks.
"If these comments were, indeed, spoken by Mr. Pelini, we are extremely disappointed, but it only reaffirms the decision that he should no longer be a leader of young men at Nebraska. His habitual use of inappropriate language, and his personal and professional attacks on administrators, are antithetical to the values of our university. His behavior is consistent with a pattern of unprofessional, disrespectful behavior directed by Mr. Pelini toward the passionate fans of Nebraska, employees of the university and, most concerning, our student-athletes. This behavior is not tolerated at the University of Nebraska and, among many other concerns, played a role in his dismissal.
"Any assertions that the campus or athletics administration was not supportive of our student-athletes and our football program are flat-out false and are contradicted by the facts.
"We are grateful that the new leadership in our football program is aligned with our values and will establish that you can be successful at Nebraska and that you can do it with integrity and class."
Related links
Bo Pelini transcript of recorded meeting with his former players
Tom Osbone not forced out at Nebraska