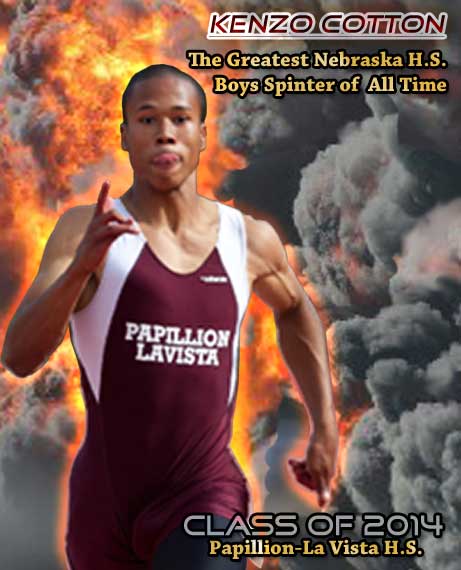 I've seen him smash the 100 meter state record with a time of 10.41 at the 2013 state meet and blaze a 21.31 to claim the 200 meter state record at the 2012 state meet and become the first freshman boy to win all-class gold in the 200 meter at the 2011 state meet, but none of those state meet performances were as impressive to me as seeing Kenzo Cotton run the 4th fastest 400 meter time (47.66) in state history to capture all class gold in 2014.
In an excellent article and interview written by Lincoln Journal Star's Ryly Jane Hambleton, titled 'State boys track: Cotton closes career with fourth 200 title' Cotton is quoted as saying the following about his 400 meter all class gold medal performance:
"When I saw the Class B kid [Columbus Lakeview senior Mark Jarecki ] run a :48.1, I knew I'd have to PR to beat him. I didn't want to just win Class A. I wanted the all-class gold."
The above statement speaks volumes as to why Kenzo Cotton is, well, Kenzo Cotton: The greatest boy sprinter in Nebraska high school history.
As a sophomore at the 2012 state meet Kenzo was quoted by the press as saying pretty much the same thing about his 200 meter all-class gold performance. While preparing himself for the start of his Class A 200 meter final, Kenzo saw Class B's Cody Rush of Northwest stun the crowd with a 21.59 200 meter. In order to win all class gold Kenzo knew he had to run a PR and he did, clocking a 21.31 to break the 51 year old state record held by Kent McCloughan of Broken Bow.
That's a champion mentality, folks! It's something you can't teach or wish for. It's simply a thing that resides in the best of the best in any competitive endeavor and Kenzo Cotton possesses that rare and elusive treasure.
To truly put Kenzo Cotton's outstanding high school accomplishments in perspective, one must realize that Kenzo has never been 100 percent healthy throughout his high school career. Even as a freshman Cotton was bothered by a nagging hip problem that eventually necessitated him undergoing corrective surgery just prior to a junior season that saw him smash the 100 meter state record at the 2013 state meet. Moreover, Kenzo has never been more hampered by an injury than during  his senior campaign this season.
Kenzo's senior season saga all started in glorious fashion last July, at the 2013 IAAF World Youth Championships in Donetsk, Ukraine. After posting the fastest 100 meter time (10.52) in the preliminary rounds Kenzo pulled his hamstring in semi-final round. The injury not only eliminated America's top qualifier in the 100 meter it also prevented the top American qualifier from competing in the 200 meter.
Many folks may be unaware that Kenzo bettered his 21.31 Nebraska state record in 200 meter with a 21.27 clocking last June to win the event at the 2013 World Youth Track & Field Trials at Southern Illinois University.
The hamstring injury resurfaced again during this past football season and again prior to the start of track season. So his coaches and father, Curtis Cotton, decided to take things slowly by keeping Kenzo out of the 100 meter, while also being mindful to coach him—not to explode out of the blocks at 100% effort—in order to minimize the strain on his hammy.
In spite of the nagging injury and running the open 400 legitimately for the first time this season, Kenzo Cotton managed to deliver yet another magnificent performance at the 2014 state meet. So much so that after seeing him run the open 400 for the first time in Friday's prelim (turning in a 48.90) and then watching  his 47.66 final performance on Saturday—there is no doubt in my mind that Kenzo would own the Nebraska state record in the 400 meter along with his 100 and 200 meter state records if he would have trained for the time or if he were healthier.
Blessed with size, speed, power, unflappable grace and an unquenchable thirst to be the best: Kenzo Cotton is an extraordinary athlete who posses all the physical and intrinsic qualities you'll find in a World Champion caliber sprinter. He is one of the rare species of sprinters that is capable of potential greatness in all three sprinting events, so it is yet to be determined in which event(s) he will ultimately realize his true greatness. However, I'm sure the track and field staff at the University of Arkansas will figure it out soon enough.
It was indeed my pleasure to watch Kenzo's high school career and I eagerly anticipate the next chapter. Fortunately, for old high school track fans like me, there is another Cotton in the stable: KJ Cotton may be just as good as or even better than big brother, Kenzo. Not even their father can determine which one is better at this stage in their careers. "All I can say in comparing the two as freshman is they are about the same, can't give the edge to either one," Curtis said.
Food for thought: This year KJ Cotton posted a state leading 10.56 100 meter at the Millard South invite—a100 meter time which is slightly more than 2 tenths of a second faster than any time posted by Kenzo during his freshman year. Unfortunately, KJ went down for the season with a hamstring injury at the Metro Championships. Look for KJ to bounce back strong in 2015.
Related Links
State boys track: Cotton closes career with fourth 200 title, Lincoln Journal Star