2012 Nebraska State Track and Field Meet Preview—Pt. 4:
Top Boys Sprinters & Hurdlers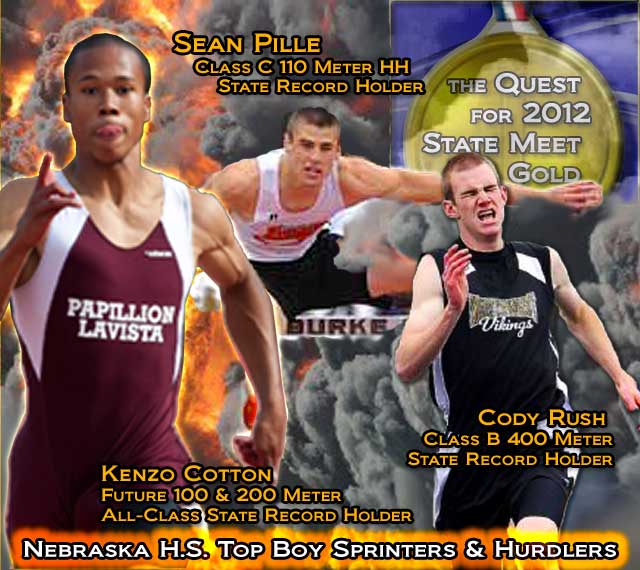 Warning:
To all sprinters and hurdlers currently holding class records and/or state meet and state records—this weekend your name is in danger of dropping down from atop the record book.

Then again it may all end up being just a close call

. Nevertheless, several very talented sprinters and one all-time best hurdler are primed for the task of making history at the 2012 Nebraska state track and field meet.
Records on the Line
100 Meter
All-Class State Record: 10.5, Kelly Yancy, Omaha Central—1989
All-Class State Meet Record:and Class A State Meet Record: 10.60, Rick Davis, Creighton Preparatory—1987
Class B State Record and State Meet Record: B/St-10.67, Tirus Meaders, Boys Town—2007
Class C State Record and State Meet Record: 10.80, Cole Biodrowski, Fort Calhoun—2000
200 Meter
All-Class State Record and Class A and B State Meet Records:
(A)    21.4, Mike Ockerman, Bellevue West, 1981; (B)  21.4, Kent McCloughan, Broken Bow—1961  
Class C State Record and State Meet Record 21.78, Cole Biodrowski, Fort Calhoun—2001
110 Meter High Hurdles
All-Class State Record: 13.8, Mashona Marsh, Omaha Benson—1975 (oldest Nebraska H.S. record)
100 & 200 Meter Chase for All-Class Gold

Papillion-La-Vista sophomore Kenzo Cotton will attempt to follow up on a history making freshman performance at last year's state meet where he became the first freshman boy to win 200 meter all-class gold (21.77). Based on his 2012 season performance Kenzo is primed to set new state meet standards and/or state records in both the 100 and 200 meter dashes.
Cotton will enter Burke Stadium with Nebraska season-best times of 10.59 in the 100 and 21.55 in the 200. Both times are ranked 5thth on the all-time electronic chart as maintained by the Omaha World-Herald.
Shortly after the start of the season, the Monarch sprinter found the right formula for his previously weak starts out of the blocks, and from that point on he has consistently turned in stellar times— including two 10.4 hand-held marks (ranked 4th on all-time chart) and a 10.61 FAT victory at the 2012 Kansas Relays.
Before his high school career is over, barring injury or calamity, Kenzo Cotton will eclipse both the current 100 and 200 state records. But will it happen this weekend? The more pressing question should be will he win all-class gold in both events?
Prediction: At this moment in time Cotton is just a cut above any Nebraska boy sprinter on the scene. Only a bad start or mishap would prevent him from winning the 100 and 200 all-class gold medals. Yet bad days do happen and if Cotton has one look out for the following Class C and B sprinters that also are capable of breaking their respective divisional class state records:
St. Ceclia's Blake Micek is Class C's two-time 100 meter state champion and reigning 200 meter champion. The Nebraska walk-on sprinter has posted times in the low 10.8's at the past two state meets and this year the smooth-form senior star has gotten even better. Micek recently posted PR's of 10.6 and 21.6 in the 100 and 200, placing him in a strong position to break Class C state records in both events.
Cozad sophomore Jake Paulsen has Class B season-best times in the 100 (10.84) and the 200 (21.79). It's doubtful he can reach the 10.67 Class B 100 meter record this year especially if he succumbs to the pressure at Burke like he did last year when he came into the with even better times than this year. The then freshman posted best time of 11.06 in the 100 and 22.37 in the 200 at the the 2011 meet.
400 Meter Chase for All-Class Gold

Grand Island Northwest's Cody Rush is on progression to crack the 47 second barrier. The Nebraska recruit sprinted under 49 seconds several times last season capping things off at the state meet with a 48.38 all-class gold medal performance. This year the boy wonder has cracked 48 seconds twice! His Class B state record 47.70 ranks 3rd on the all-time chart. One week after his all-time chart run, Rush did it again with a 47.73 at the B-5 district meet. Later in the same meet, his coaches stated that Rush also ran a sub-47 come-from-behind anchor leg on Northwest's district champion 1600 relay.
It sounds like Rush is primed to make history at the 2012 state meet.
Before Rush steps up to the plate, Class C's Levi Gipson will take a shot at claiming the gold. The Nebraska recruit won the Class C 400 meter state championship in 2011 with a time of 48.65. Even though he has been bothered by a groin injury all season long—Gipson is still turning in mid-to-low sub-49 times. This kid can run! If he is healthy he will give his soon-to-be Nebraska teammate a run for his money.
Class A 400 Meter is a Must See Event

Folks familiar with the state meet know that the schedule of events start with Class D and in reverse progression up to Class A. So it's very likely that the Class A boys will be swallowing hard when they see Gipson and Rush's times posted up on Burke Stadium scoreboard.
Can Anyone in Class A Catch Rush or Gipson?
No matter what he answer to the above question track fans will not want to miss the Class A 400 meter final!  The contest will feature some high quality 400 meter boys and it is very likely to be 5 or 6 across coming down the home stretch towards the finish line.
Out of this good Class A field I believe that one of the following three boys will emerge as the Class A champion.
Garrett Teel, jr. Lincoln Pius X  49.05
James Parks, Sr., Lincoln High, 48.97
Sam Foltz, Sr.,  Grand Island, 49.08
Teel has positioned himself to be "The Man" come next season. Since his sophomore year he has successfully ran with the big dogs, finishing 3rd with a time of 49.11 at the 2011Class A state finals. At the recently concluded A-2 district meet, Teel ran a career-best 49.05 in a come-from-behind victory over 2012 Class A season-leader James Parks.
Parks has drawn very strong interest from several D-1 programs, so it would be a feather in his cap if he could cap off his high school career with Class A championship.
Prediction: On paper the Class A boy with the best shot to win all-class gold is Nebraska walk-on football recruit Sam Foltz. The senior ran a PR 48.53 in his 2011 state meet prelim before barely losing to 2011 Class A champion Dennis Barfield (Omaha Central). Barfield is mysteriously absent from the field of 400 meter contestants at this year's state meet.
It's not unusual for a 400 meter boy to drop a second from his PR at the state meet; however, dropping much more time than a second is very unusual. Hence the reason why I choose Foltz as having the best shot in Class A to win all-class gold and therefore the 2012 boys Class A 400 meter state championship.

Boys Hurdles
Nebraska University track and field has cleaned up this year in recruiting the top in-state kids and they are getting a good one in Sean Pille. The Oakland-Craig hurdler smashed the Class C 110 meter HH record (14.39) at last year's state meet and he recently ran a No. 10  all-time chart 14.00-flat.
Pille has a realistic shot to break Nebraska high school track and field's oldest all-class reword on the books: the 35-year-old, 13.8, 110 meter HH record set in 1975 by Omaha Benson's Mashona Marsh.
Pille also has Nebraska's season-best 300 meter time (39.00), so we could see him claim both all-class golds.
There is no one in the state close to Pille's times in 110 HH, but he will face several strong competitors for that all-class gold in the 300 IH, including class of 2013 Nebraska football recruit Josh Banderas.  The Lincoln Southwest linebacker is among the favorites to the win all-class 300 IH and the Class A 110 HH. The outstanding all-around athlete also has a shot to place high in the discus event.
So you see: there will be a lot of top athletic talent competing at Burke Stadium this weekend.
Related Links
2012 Nebraska State Track and Field Meet Preview—Pt. 3: Top Distance Girls

2012 Nebraska State Track and Field Meet Preview—Pt. 2: Top Boys Distance Runners
2012 Nebraska State Track and Field Meet Preview—Pt. 1: Top Seniors