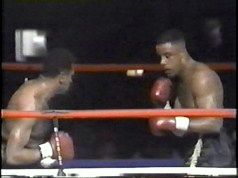 By Will Cummings
myHitNews.com
MHN  is excited to announce that  Darin Allen has joined the myHitNews.com domain with his blog "Darin Allen's Let's Talk About IT" at www.darinallen.myhitnews.com. Right now, Darin's website is live but he will not officially begin blogging until Tuesday, September 14th, 2010. 
Darin's roller coaster amateur and professional boxing careers are highlighted by winning the middleweight gold medal at the !986 World Amateur Boxing Championships, and an on-again off-again pro career that concluded in 1997 with a 23 win (nine knockouts) 3 loss, 1 draw record and a Light Heavyweight IBF world title bout.
Darin Allen Destined to Box
Darin Allen, born and raised in Columbus, Ohio, began boxing at the age of ten and demonstrated tremndous talent from the start. As a teenager he blossomed into a tall, rangy and charismatic boxer, who would pack his hometown gym whenever his fans knew he was going to box. 
Allen possesed one of the best jabs I've ever seen in boxing, pattering much of his style and his ways after his Idol Muhammad Ali.  And like "The Greatest" there were times when he would taunt his opponents inside the ring and become cocky with the media outside of it, while he carved out his career during what is arguably recognized as the heyday of boxing in the U.S.  Accordingly, Allen is  blessed with a wealth of extraordinary life experiences and a gift for gab, He has plenty of stories to share along with a different take on a wide range of topics that he plans to discuss on his blog.
My Fondest Moments
Darin and I go back a long ways.  My father, Bill Cummings Jr. was his head coach as an amateur and I also helped train him for a couple of years.  Those years are still the fondest moments in my life–and those experiences play a large part in why I–dearly–appreciate the commitment, sacrifices, and dedication that top athletes in all sports go through to be the best at their craft.  Nonetheless, in my opinion–no sport is as pure to the core as the "sweet science" that is boxing: A brutal contact sport where its participants put their pride and well-being on the line—man against man (women too nowadays) in front of all that are watching.
During my four year stint as a boxing coach, I learned a lot about the core of an athlete: what makes them tick in victory and defeat. Iv'e seen them beaten to a pulp with swollen, cut up, bloody faces, broken jaws, busted hands and the physical suffering and humility of being knocked out cold—but they'll get up and go into battle again.  And that is just what they endure inside of  the ring. Many of these boxers endure much harder battles outside of it. The ablity to overcome so many of these obstacles is why I truly admire Darin Allen. He has overcome so much agony within the ropes as well as on the other side–where we all struggle to survive.
Perhaps in the future, Darin will share some of those things with his audience. I'm sure they would indeed be inspiring to both young and old alike. 
Darin Allen is very, very lucky to be alive, today! But that's a story for him to tell.
Darin will be the first to tell you that with his all his talent he underachieved. Darin says, "I should have trained harder and been more focused, not done so may dumb things outside the ring."  But Darin all-in-all you had a remarkable run. You traveled the world and achieved more than most could ever dream of, and in my book you will always be Champ!
Currently, Darin resides with his wife Joy and their young children in Gahanna, Ohio (a suburb of Columbus). All together Darin has six children all of whom he is proud to say that he has taken care of.  
Glad to be working with you again, Champ. Thanks for coming on board and have fun with your new site. Oh, and Go Buckeyes!
Related Links
More about Darin Allen on Wikipedia
Darin Allen's Blog Website "Let's Talk About It" (darinallen.myhitnews.com)