Volume IV of the 2013 Nebraska High School Track and Field State Meet video highlights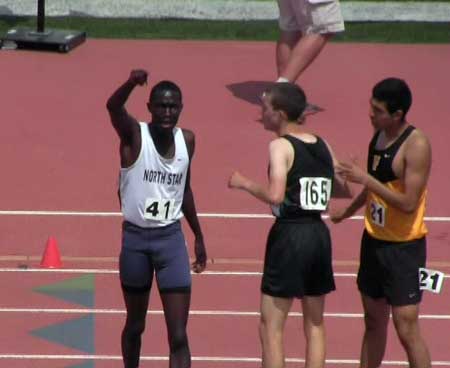 The Class A boys 1600 meter run at this year's state meet showcased three of Nebraska's all-time best distance boys: Danny Aldaba (Fremont); Mohamed Hamdan (Lincoln North Star) and Joe Harter, (Millard West),  But it was Hamdan who eventually prevailed in this one to capture his third consecutive 1600 meter all-class gold medal. His winning time of 4:13.59 ranks No. 4 on the all-time chart.
As one would expect the trio of stars produced a great race—all three packed tight at the front for most of the race, until Hamdan began his push at about 200 meters from the finish.  Aldaba tried to hold close—but Hamdan's kick was just too much and Harter, who won all-class gold the day before in the 3200 meter, did not have enough juice left to really keep up with either one.
According to Nebraska School Activities Association (NSAA) records, only two other Nebraska high school boys have ever won three consecutive all-class gold medals in 1600 meter and/or its equivalent, the mile run. The last time it was done was in the mile runs of 1917-1919 by

Nichols of Lincoln

.

Bumham of Pawnee City

was the first and only other boy to do it (1905-1907).  Hamdan is the only boy to three-peat in the 1600 meter run since it replaced the mile format in 1980.
Over the past several years Hamdan, Aldaba, and Harter have provided high school track and field fans with many outstanding and memorable performances that included numerous all-time chart runs. 
Harter leaves the high school oval having recorded Nebraska's second fastest 3200 meter time (9:05.34), set at the 2013 Metro Conference Championships. Aldaba recorded top-ten times in the 1600 and 3200 meter: No. 3 (4.12.24) and No. 9 (9:14.06) respectively, while, as mentioned earlier, Hamdan holds the No. 4 spot on Nebraska's all-time best chart in the 1,600 meter run.
Thanks for all the excitement fellas, and good luck in the college ranks
.