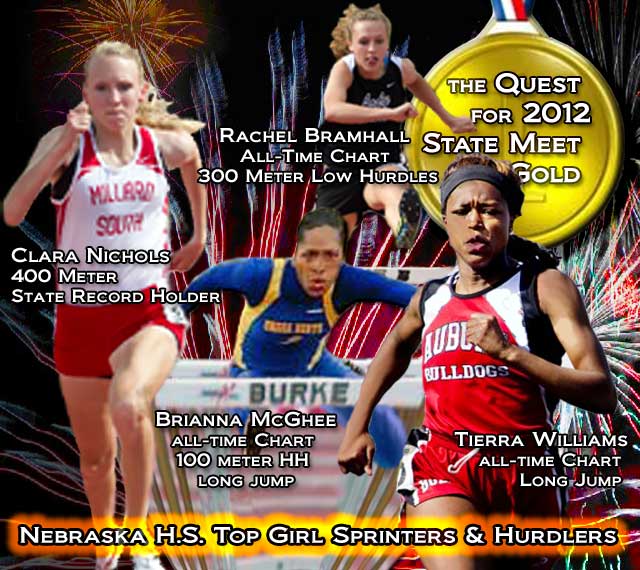 2012 Nebraska State Track and Field Meet Preview—Pt. 5:
Top Girl Sprinters & Hurdlers
This weekend 400 meter state record holder Clara Nichols will grace the Burke oval for the last time wearing the Millard South Patriots red and white track uniform. The Oklahoma state recruit will look to go out in style as a four-time Class A 400 meter champion, two-time all-class gold 200 meter champion and a first-time 100 meter all-class gold medalist for a sweep of the sprint events. Nichols could also lower her 400 meter record and become the first Nebraska high school girl to run under 55 seconds. Nothing will come easy for the senior as the 200 meter is  the only event that she does not face a serious threat.
100 Meter
Nichols' slow starts out of the blocks are the only thing that has prevented her from realizing sub-12 100 meter times. Yet despite her sometimes torturous starts Nichols has still won 2 all-class 100 meter silver medals. That's a testament to her speed once she gets rolling. Nonetheless if she doesn't have her start together this weekend she is likely to face the same results as in the past two state meet outings.
The Class A sprinter most capable of spoiling the show for Nichols is Omaha Central junior Chelsea Baker By a hair's length, the Eagle finished third to Nichols at last year's state final. Earlier this season Baker paid Nichols back by holding on just long enough to prevent the fast-closing Patriot from out-leaning her at the finish.  Nichols bounced back last week to take Baker In another photo finish at last week's district meet.
If Nichols does manage to claim the Class A title it had better be a posting a significantly lower PR, because Class B sprinter Tierra Williams enters the contest after just recently posting Nebraska's best 100 meter time of the season (12.06) at the B-5 district meet. The Auburn junior is also ranked No. 9 on the all-time chart for her 19-2.50 leap she made in the long jump last season and she also leads the state this year in the triple jump (37-10).
Prediction: The all-class 100 meter gold is up for grabs.
200 Meter
As I mentioned, as long as Nichols brings her best, there is no one else in the state running near her 24.89 state-leading time. Nichols' 200 career PR is a 24.80 posted at the 2011 state meet.  Still, watch for Williams in this one, too.  She has a 25.22 season PR.
Prediction: Nichols wins 200 meter all-class gold and she may crack into the all-time chart with a run of 24.70 or lower.
400 Meter:
The winner of the 400 meter all-class gold will come down to Millard South teammates: Clara Nichols vs. Morgan Woitzel.
Two of Nebraska's all-time best high school 400 meter sprinters will square off for one last time as prep stars. Their last few battles—if you want to call them that—have been lopsided with Nichols running the table. But this year Woitzel looks ready to rumble and there is no reason to think that she can't get the best of Nichols. The now healthy Nebraska recruit knows what it is like to run sub-56s and if she can pull a PR in this one—look out.
Prediction:  History says Nichols should win. But this race has nothing to do with history: yet everything to do with the future. I'm on the sideline for this one. But whatever happens at the end of this race both of these young ladies deserve a huge round of applauds from the fans as appreciation for their outstanding high school track careers.
Clara Nichols and Morgan Woitzel—one would not be without the other. Together they set a new standard for the Nebraska high school girl 400 meter.
Hurdles
100 High Hurdles
There are several legitimate contenders vying for all-class gold in the 100 meter HH, but if University of Texas at El Paso recruit Brianna McGhee is healthy she is likely to walk away with this one. The Omaha North senior ranks 3rd on the 100 HH all-time chart (14.23) But McGhee hasn't come anywhere near to her career PR this season, which leaves the door wide-open for two-time all-class gold 300 meter low hurdle medalist Kalyn Brannagan to step in and win this event. The Class C junior from Shelton High leads the state with a time of 14.72. Also watch out for Lincoln Northeast senior Ashton Steckelberg who posted a 14.82 this season
Prediction: Brianna McGhee wins 100 HH all-class gold.
300 Low Hurdles
Kayln Brannagan and Rachel Bramhall Record Watch
The 300 low hurdles will come down to Brannagan and this season's new girl sensation Papillion-La Vista South junior Rachel Bramhall. A few weeks ago, the junior Titan shot up to No. 3 on the all-time chart when she ran a 43.90. She is rapidly closing in on the No. 1 all-time best 43.04 clocked by Millard North standout Kiana Elahi in 2007. Now a graduating Iowa State senior with an electrical engineering degree in hand, Elahi followed up her 2012 Drake Relays 400 meter hurdle win by placing second in the 400 meter hurdles at the Big 12 track and field outdoor championships. Bramhall is chasing a giant.
Prediction: How can I go against the two-time champ who as a freshman posted a faster 300 meter LH time than LaQue Moen-Davis to win the all-class gold? Answer: Bramhall has posted much better times during the season, so she's my pick to win all-class gold. Brannagan may get the consolation prize of breaking the 44.47 Class C state record set by Cedar Bluffs' Darcy Siebels in 1987.
Related Links:
2012 Nebraska State Track and Field Meet Preview—Pt. 4 Boys Sprints and Hurdles
2012 Nebraska State Track and Field Meet Preview—Pt. 3: Top Distance Girls

2012 Nebraska State Track and Field Meet Preview—Pt. 2: Top Boys Distance Runners
2012 Nebraska State Track and Field Meet Preview—Pt. 1: Top Seniors
Class B Boys 200 Meter Prelim—Oh my! Cody Rush will give reigning boys 200 meter all-class gold medalist Kenzo Cotton something to worry about. The Nebraska recruit jammed a 21.73 to post the top time in the Class.  Paulsen (22.88) placed second his heat behind Covington (22.05).
Class B Girls 200 Meter Prelim—Auburn's Tierra William's is having another bad day at the state meet. She barely qualified to make finals with a 26.05. Lexington's Lindsie Woolley has the best time going into fianlas (24.43).
Class C Girls 100 Meter Prelims—12.53 is good enough for Shelton's Brannagan to lead.
Class C Boys 100 Meter Prelims—St Cecelia senior Black Micek's 10.91 leads qualifiers.
Class A Girls 400 Meter Prelim—Nichols 56.46 followed by Woitzel 57.37.