Mother Nature Can't Stop Greatness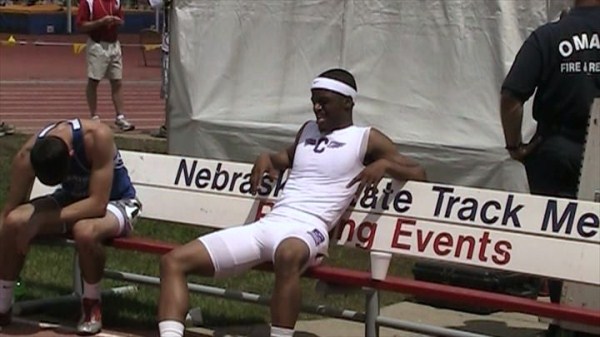 Day 2 State Track and Field Championships: A Day of Records. Sent via Blackberry
Post Live Coverage Commentary: The miserable spring weather this season was no match for some of Nebraska's most talented high school athletes who continued to prod through the training and all the poor meet conditions to deliver one of the best state track and field meet performances in recent history.
Well done athletes, coaches, parents, administrators volunteers and fans. GREAT MEET!!! More later.
Not a lot of time to do updates but records are falling:
Moen-Davis started it off with her 13.8x 100 HH– fastest ever period! Followed by Breunna McCarty 11.90 100 State Meet Record. Then Clara Nichols nearly broke 55 flat, she ran 55.05 to shatter Angee Henery's '93 record– fastest ever period!
Dennis Barfield won Class A 400 48.47 in a great race down stretch with Foltz and Teel. Barfield is a gamer deluxe! But Cody Rush took ACG with 48.38.
Great boys 800 this morning Mach Dojiok and Jacob Olsen and Mo Hamden battled down the stretch to a close finish–Dojoik wins 1:53.80.
Ted Lampkin won ACG (10.75) edged out Class B Wilkins (10.77).
Class C won boys ACG 110 HH 14.34 Wilkins won B at 14.5x. Aubree Worden just broke 1600 Class B state record 4:50.06.
Upset Boys 1600: Mo Hamden over Olsen. 4:18.90.
300 Hurdles: Kayln Brannagan wins Class C 300 44.xx. Season's best. Close to all-time chart
Moen-Davis sets Class A meet record triple 41-4x. But her best jump is 41-9x but too much wind for rercord.
Class A Welton wins 45.92. Brannagan wins ACG.
Teddy Lampkin LJ 24-01/2 Wins 4 all-class golds! Check the record book on how many times that happened. I know Andy Birkel swept the sprints in 2003 I think it was.
Boys 300 IMH: Wilkins wins B 37.92. A Braxton Voss 39.58.
200 Meters:
Girls: D Baumgart 26.33; C Parker 25.37; B Barnard 25.46. A Nichols 24.80.
Boys C Micek 22.22; B wickham 22.27; A Freshman boy wins all-class gold in one of best times 21.77.
1600 Relay
Boys
D Deshler3:30.73,
C Lincoln Christian 4:05.54
B Northwest 3:25.23, Northwest
A Boys 3:20.03, Omaha Central
Girls
D Humphrey St Francis 4:05.42
C Lincoln Christian 4:05.54
B McCook 4:02.06
A Millard South 3:58.28
Related Links
Latest Active Athlete All-Time Chart List
End of Season Nebraska HS Track and Field Leaders