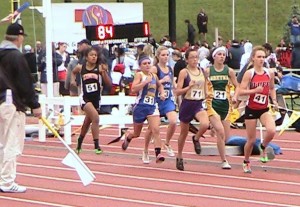 Here at day 1 of state meet. Live update sent via Blackberry
They just finished the girls 3200 relay. Lincoln Pius X won Class A (9:30.83). Boys: Elmwood-Murdock Class C (8:16.92). Class A. Fremont (7:58.43). Nice crowd as usual but looks like rain any minute. Class A girls 100HH: Moen Davis 14.25 McGhee 14.69. Lampkin leads triple going into finals 47-9.25. Class A girls 100: Heat 1 Nichols PRs 12.16. Heat 2 McCarty 12.25.
Boys 100: Class A Lampkin 10.84.; Cotton 10.94. Class C Gipson 10.94.
Lampkin wins Triple 47-9.25.
Class A 400 girls Nichols 55. 84.
Boys 400 Class C Levi Gipson 48.81–this kid can run!!!
Class A Heat 1 Foltz 48. 54 Ohh! Heat 2 Barfield 48. 76.
Class C Meet record in girls Pole vault 11-6.25- Aisha Bourke .
Sidney Hirsch wins Class A girls 3200 11:05.xx. Sanderfer wins Class A pole vault 15-8, tried 16-2.25. Starting to Rain. Girls Class A long jump Moen Davis leads going into finals 19.7.xx.
Boys Class A 3200 Aldaba wins 9:34.15. Kalyn Brannagan PR 300 LH 45.71. Class A shot put Zach Maloley 58-1.5 ; Class C Mike Shoff 56-1.  200 Meter: Class A girls Heat 1 Nichols 25.54; Heat 2 McGhee 25.65. Boys Heat 1 Cotton 22.32–I just got through talking with his dad. The former NFL player is a Sheriff now. Nice guy too. Heat 2 Barfield 22.30. Class C Heat 1 Gipson 22.63; Heat 2 Micek 22.84 Heat 3 Huxoll 23.10. Upset Class A girls discus Alexanda Rodriguez defeats Wallerstedt. Wet and raining don't help. Only 126-4 throw.
Man the weather sucks–rain rain and more rain. It's Intermission time now. Class A and C are done. Next up are Classes B and D at 3:30. Had to go to the car to get out of the wet nasty. Good thing this is not a cold rain.
Everyone please say prayers for former outstanding Nebraska high school baseball and football player Greg Denniston out of Lourdes Central Catholic. I ran into his father and he told me Greg was now in the Army serving in Afghanistan–a dangerous area too. Having served in the Army myself (Persian Gulf War) I know what it must be like for him and his family.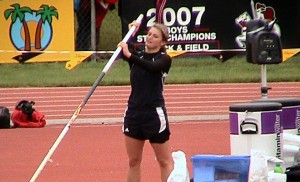 I tell you what that the Class A 400 final is going to be a great race! Dennis Barfield ran another PR (48.76) to beat Garrett Teel. I told you all he got the eye of the tiger. That was a good heat he beat. But Foltz ran a better time in his heat (48.54) and he looked very good. He will be tough to beat but if anyone can it's Barfield.
The girls 100 just got more interesting too with Nichols 12.16 PR. She also has the best time in the 200 going into tomorrow. What that girl been eating?
Kenzo Cotton looked good winning his heat with ease, he coasted in so he should break 22 tomorrow if the weather is alright.
Well I'm heading back in to get my first look at the Cozad Cobra. Check back. And don't forget the prayers for Greg.
State Meet Class B Record Girls 3200 relay 9:29.02–Seward. Class Boys Holdredge 8:10.43. Class D Paxton 8:26.48.
Boys 100
Class B
Freshman Jake Paulsen (11.06) gets beat by Wickham (11.06)
Tannor Mroczek wins heat (10.98).
Wilkins wins heat (11.01). Wilkins runs 14.40 110 HH. Jerrell Moore wins Class A HJ 6-6. Stine Class C 6-4.
Girls 400 Class B heat winners: Ewers 59.72. Mullen 59.91.
LaQue Moen-Davis wins all-class gold long jump. Her main comp was Class B Williams she wins girls Class B LJ  with leap of 18-1.75.
Boys 400 Class B Wilson 49.91 heat 1. Heat 2 Dewey 51.09. Heat 3 Rush 49.21.
State Class B Record for Aubree Worden Class B Girls 3200 10:27.33. Smashed It!
Class B Boys 3200 Thomas Feichtinger 9:32.50. That beats Aldaba for all-class gold.
Jer' rel Moore wins all-class gold in HJ. The only boy to jump 6-6. Boys 300 IMH Wilkins easy 38.61.
200 Class B girls Neiderklein 26.02 and Barnard 25.70
200 Class B Boys. Heat 1 Paulsen 22 46. Heat 2 Terry 22.51. Heat 3 Wickham 22.34.