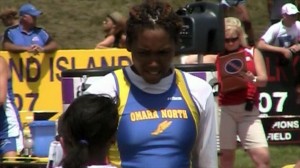 LaQue Moen Davis kicked off what Omaha World-Herald staff writer Stu Pospisil has coined "the finest hour" in the 40 years at Burke Stadium (see link to article below) when she blazed to a 13.87 100 meter HH win. Then her teammate, Bre' unna McCarty, bolted to a 11.90 100 meter that was followed up by Clara Nichols' stunning 55.05 400 meter sprint.
Representing the boys is Kenzo Cotton: he is the first freshman boy to win a state meet gold medal in the 200 meter. Yes, I know that 97 years ago a freshman won, but they ran 220 yards back then—not 200 meters. Plus in those days there were only about 5 high schools in Nebraska. So he is in, besides those girls can't get all the glory.
I'm in the process of making the 2011 highlights that will feature a lot more; there were a lot of good moments at this meet. Accordingly, it's a lot of film to have to go through.
2011 Nebraska HS Track and Field Meet Top Historic Performances Video
httpvh://www.youtube.com/watch?v=T2b2Tw2zdvY
Related Links
Lampkin captures four all-class golds; three girls set state records