Notes and Closing Thoughts on the 2010 Track and Field Season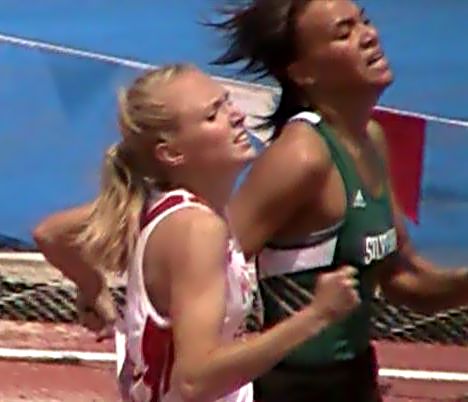 In Pursuit of Victory: Millard South's Clara Nichols (left) and Lincoln Southwest's Amanda Brown battle stride for stride down the home stretch, during a thrilling race for Class A gold in the girls 400 meter finals, at the Nebraska High School Track and Field Meet State Championship. At the finish line, Nichols barely managed to lean past Brown to capture her second Class A 400 title.
By Will Cummings
myHitNews.com
The Nichols/Brown duel is one of several very exciting finishes featured in the 2010 State Track and Field Meet video produced by Hit Highlights.com
Quick Notes: The 2010 Nebraska HS track and field season was very good indeed.  And if you just look at the list of all the outstanding talent that returns to the oval and field next year: the 2011 season could be a banner year for Nebraska high school track. Of course, the expectations for next season will be dependent primarily on the focus and dedication of the athletes to improve their performances. And we can't leave out of the mix well-health and good weather in 2011.

State Champion Track & Field Athletes Returning in 2011
LaQue Moen- Davis—what more can I say. The future Olympian was only one 100th of a second away from becoming the first girl in state history to win 4 individual All-Class gold medals. Daniel Davie—a very gifted and explosive athlete with a huge upside! He had a miss-stride in the boys 100 and ran a terrible curve in the 200 and still managed to capture both All-Class gold medals. and posted good times to boot Marshall Anderson—this All-Class Gold sophomore distance runner looks like he has a lot left in the tank—enough to chase down some records over the next couple of years. Brianna McGhee—My! The sophomore with a beautiful stride is simply marvelous—records will fall!  Clara Nichols—I'm more impressed with her this year even though she failed to capture individual All-Class Gold. The big hearted sophomore is just a start-improvement away to becoming a sub-12-second 100 and consistent sub-25-second 200 meters sprinter. The 400 meter state record is hers for the taking and ditto for her sophomore teammate Morgan Woitzel, who already shares the Class A state meet record). Maia Reynolds—Whew!  An impressive and explosive sprinter that is definitely capable of running a legitimate sub-12 second 100 meters. Ted Lampkin—the boy can jump!  A tremendous athlete who is quite capable of breaking both the triple and the long jump records. Also don't count him out in the 100.  Kaylan Brannagan–the All-Class gold 300 meter hurdles champion is the only freshman—boy or girl–to win individual All class gold at the 2010 state meet. The Class C standout from Shelton had to beat out LaQue Moen-Davis's time to accomplish the feat. Her victory should be duly noted as the obstacle that prevented Moen-Davis from making history.  Amber Ewers—The Class B All-Class gold 400 meter medal winner looked impressive—a very strong sprinter. Kristie Mullen—the outstanding 800 meter distance runner looks to claim more gold in 2011. Aubree Worden—the Scottsbluff junior dominated the field in the 3200. Michelle Wallerstedt—the All-Class gold discus champion (144' 4") is only a sophomore at Burke. Beau Simmons—the junior Aurora pole-vaulter catapulted 15' 2" to capture All-Class gold. Brady Rutt—on an awful day for throwing, the junior discus thrower from Hastings managed to let one fly for 173 feet to win All-Class gold.
Dude, that's a lot of talent up there for a state with  a population of only 1.8 million. And believe me there are more in the woodpile that could come out and shock the state in 2011.
Closing thoughts: Thomas Hodges—may very well have been the fastest boy in Nebraska. The 2010 Class A 100 meter champion (10.75) pulled up injured on his last couple of strides during the race and he was unable to compete in the 200. He missed All-Class Gold in the 100 by one 100th of a second–just sayin'! Bethany DeLong—absolutely no competition in her class to push her to better times—but there is no doubt that she can run!!! And that's why she gets a D-1 scholarship. Antaries Daniels–after sitting out last season, he looked impressive in the Class A 100 meter finals, finishing third (10.80). I'm Looking forward to seeing him play in this year's Shrine Bowl in June, where he should experience something new–an O-line that can block and give him some holes to run through. Speaking of football players, Nebraska walk-on Dillon Schrodt looked ripped and ready to rumble. The Lincoln North Star senior came up just a hair short–less than a half tenth second- to Omaha Northwest's Elijah Mason in an epic Class A 110 meter high hurdle race.  Look for Schrodt to make some noise early on at NU! Tim Thompson of Boys Town is headed to NU on a track scholarship, but he also looks like he could do some damage on the football field as well. I wonder how fast Thompson really is considering he has been nursing injuries for the last couple of years. Deverell Biggs—the ultimate clutch performer! Biggs leaped to an All-Class gold personal best  7-foot high jump at state and he only stands 6-foot-1-inch tall. Three state titles in basketball and two All-Class gold high jump medals will earn him strong consideration in the future for Nebraska High School Hall of Fame honors.  Stephon Washington—he ends his high school career with four Class A titles in the 300 meter hurdles—something not done in that event since 1920. And finally, how about the senior from Kearney–Steven Stumbough–who seemingly came out of nowhere to capture the Class A 200 meter title. Nice time (22.20) too.
Video: Below, Check out some of the action from the 2010 Nebraska High School Track & Field Meet State Championship:

If the above 2010 Nebraska High School State Track & Field  Meet video does not appear in your browser click link:http://www.youtube.com/watch?v=P2i9QhHAlns