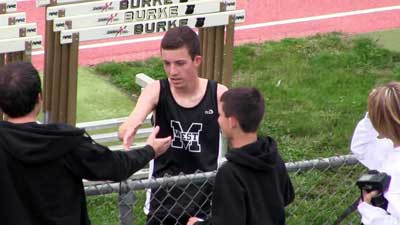 If the forecasted cold and wet weather turns the customarily two-day-long Metro Track and Field Meet into a one day affair in 2013, Millard West distance runner Joe Harter sure made it a very memorable one.
Man, I love to see all-time top ten top ten performances and records broken. and this Wildcat senior came up huge on both counts for me! My goodness!
I made it a point to watch the final heat of the Boys 3200 from start to finish. I figured with this weather and Harter's career PR in the 3200 that he had a good chance to run into the all-time chart.
From the start Harter looked good, real good. But I didn't really realize how fast he was moving until the bell clanged for his final lap. That's when I looked up at the track clock and saw approximately 8:00 minutes. Ooh! I thought, unless he dies (figuratively speaking of course) he is going to go deep into the all-time list. Harter didn't die. He got stronger. When it was all over—Joe Harter had churned the 3200 meter run faster than any boy in the history of the Metro Conference Championships. He was just awesome! At the finish he looked like he was barely winded.
Harter's record-breaking Metro Conference Championships time of 9:05.34 ranks second on the all-time chart behind Kearney's Colby Wissel's 8:55.6, set in 2004.
A couple of weeks ago in one of my post I made the comment that I thought Danny Aldaba was the cream of the crop in the boys distance runs. Well, right about now Joe Harter has made me rethink that statement. I'll just have to wait to see which one of these D-1A athletes comes out on top in the 3200m at the state meet: Oklahoma bound Danny Aldaba or Nebraska recruit Joe Harter? Or maybe the winner will be Lincoln North Star's Mohamed Hamdan? It shapes up to be perhaps the best 3200m filed in the history of the state meet.
Sidney Hirsch Delivers
Harter wasn't the only Millard West Wildcats distance runner to shine on Tuesday nor was he the only one to make me eat my words: Sidney Hirsch finally ran like I always knew she could.
Hirsch won the girls 3200 meters in a very impressive 10:52.06, besting her career PR and season-leading time by over 13 seconds. I was as happy to see Sidney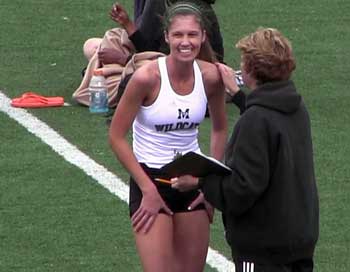 deliver like that as I was of seeing Harter do his thing. Remember, my early-season pick to win all-class gold in the girls 3200m was Lincoln North Star sophomore Jeralyn Poe. If Sidney keeps running like this Poe will have to wait until next season to pick up the gold.
Kenzo Cotton, the More I Know the More He Impresses
I chance to speak to Kenzo's dad, Curtis Cotton, at the track meet and he filled me in on Kenzo's hip injury. It's been widely reported that Kenzo had surgery on his hip, shortly after this past football season. However, until I spoke to Curtis I did not know that Kenzo's hip had been troubling him for the past couple of years, as well as some other dings that were revealed. All of which left me with the impression that Kenzo Cotton is one tough hombre! He is truly a very special kind of athlete.
Due to the revelation from Curtis it's impossible for me to tell Kenzo's ceiling, because he was running those record-breaking times—over the past two seasons—at less than full health.
On Tuesday, Kenzo ran a 21.61 200 in the prelims and backed off about 7 meters from the finish line. Comparatively, at last year's Metro he ran a 21.87 in prelims and 21.55 in the finals. Even after coming off of hip surgery just a few months ago and not being able to properly condition—he could still have ran at least a 21.55 on Tuesday. He also ran a 10.65 in the 100m prelim vs. 10.59 last year. So if he stays healthy we could still see a recovering Cotton better his PR in both events at state. That is if the weather cooperates, too.
Two Athlete to Watch
Chloe Akins-Otiko is the real deal! I'm telling you, right now, if this very highly skilled D-1A-level basketball player decides to give it her all on the track—she will penetrate deep into the all-time charts in both the 200m and the 100m. The Bellevue West freshman has the explosiveness and the basic form to become one of the best ever Nebraska high school girl sprinters. Once she gets her starts down—look out!
Omaha Central junior Desiree Sanders looked good in lowering her season's leading time in the 400m down to 57.53 to claim the girls Metro championship. Blessed with a great 400m frame and fluid form, she just needs to put in the hard work. If so, look for her to crack into the all-time chart before her career is over, She could even make a run at Clara Nichols' No. 1 55.05. She has that kind of potential.
Related Links