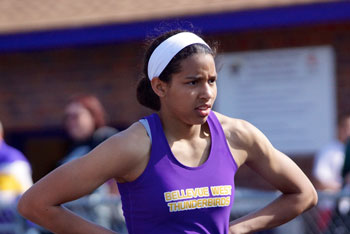 As the 2013 Nebraska high school track and field season heads into turn four, on its way to the state meet finale, the Bellevue West Thunderbird Invite proved that this years' chase for all-class gold in the girls events is going to be a real wild ride—all across the board.
Case in point: Omaha Central junior Desiree Sanders pumped out a 58.31 400m to claim Nebraska's season's best time in the event. Sanders' time bested the previous mark of 58.74 set early on in the season by McCook's Molly Sughroue. Right now these two look like the front-runners to claim the 2013 400m gold, but there are several others girls out there that are capable of busting a good time to take the crown.
Former Millard South great Clara Nichols dominated the girls 400m for the past four years, so it will be interesting to see who will emerge to claim this crown. 
Nichols, now a freshman at Oklahoma State, turned in the 3rd fastest 800 meter time (2:06.63) in school history to earn a fifth place finish at the recently concluded Mt. SAC Relays in Walnut, California.
Freshman standout Chloe Akins-Otiko put on another brilliant show on her home turf, grabbing three gold medals (100, 200 and long jump). However, Auburn senior Tierra Williams recently ran a 12.20 to overtake Akins-Otiko previous season's best time in the 100m. Akins-Otiko still holds the best electronic times in the 100m (12.36) and 200m (25.23), while Williams holds the state's best marks in the long jump (19-5.75) and triple jump (40-2).
Like the 400m—there is no truly dominate girl in the 100m, or 200m. The girls sprints races are wide open at state this year!
Millard West's Sidney Hirsch ran a PR 5:05.54 in the1600m to lower her Nebraska season's best time in the event. Though I'm still waiting for Hirsch to show us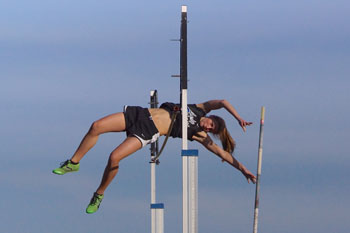 what she can really do. Hopefully, she will save her best for the state meet where she can finally claim an all-class gold medal or two.
Papio South pole vaulter Lizzy Stanton cleared the bar at an impressive 11-6 to share the season's best mark in the event with Lincoln Southwest's Karlye Cygan.
On  the boys side, Joe Harter delivered the only quality performance of the meet. The Millard west senior distance runner won the 1600m in 4:20.61. His time was the second fastest time of the season behind Fremont runner Danny Aldaba's 4:17.51.
I'll see you all at the Metro Meet this week.
More Great Photos from Michelle Woitzel
[tn3 origin="album" ids="60″ skin="aura-horizontal" transitions="normal blinds" responsive="1″ autoplay="1″ history="1″ mediaelement="1″ touch="1″ imageClick="fullscreen"]
Related Links