Nebraska High School Track Stars Turn up the Heat on Way to State Meet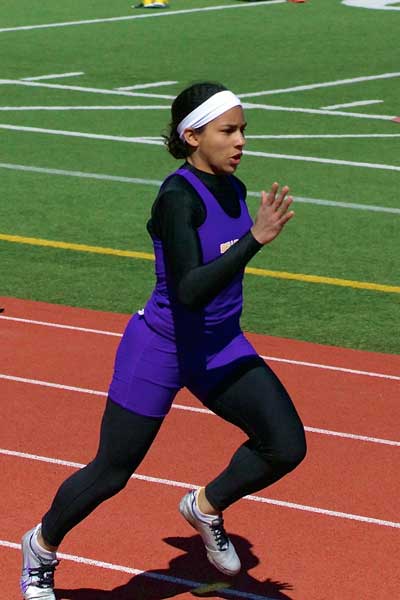 Correction: This post was in error: Nebraska Schools Activity Association (NSAA) had incorrectly listed  Akins-Otiko's  time in their district results as 24.30. He district time was actually 25.30. Nonetheless,  this still doesn't change my mind that a focused and healthy Akin-Otiko will eventually own the sprint records in the girls 100 and 200 meter sprints.
In my last post I said Bellevue West freshman Chloe Akin Otiko is THE REAL DEAL! And so she is. Akin Otiko won the girls Class A3 District 200 meter dash in the stunning time of 24.30 seconds to tie Mikaela Perry (Omaha Northwest, 1993) for the second fastest girls 200 meter time ever recorded in the history of Nebraska high school track. Only Omaha Brownell-Talbot's Sarah Lyons' No.1 all-time best 24.06, set in 2006, has been faster.
That's quite the accomplishment for a freshman!
Akin Otiko also lowered her state-leading time in the 100m to 12.29; won the long jump (17-11) and she ran a leg in Thunderbirds winning 1600 relay team. The A3 District were held at Linclon High School.
The Papillion-La Vista boys 400 relay team barely missed breaking the all-time record. Lucas Hostetler, Jalen Allison, Nick Bartels and Kenzo Cotton humped a 41.79 to tie the 1999 Omaha Central relay team for second all-time best in the event. The Monarch district win was just .05 behind the 2007 Omaha Central team's all-time best 41.74.
The Lincoln Pius X boys and girls relay teams posted some chartbusting times, too. At the A-4 districts held at Millard South High School Mitch Grosserode, Caleb Cowling, Jimmy Hansen and Garrett Teel turned in the 2nd all-time best 1600 relay time (3:17.71). The 1985 Fremont team holds the No.1 time at 3:17.15. Teel also lowered his state-leading time to win the 400 meter in 48.56. It looks like he may be peaking to run a sub-48 at state. Keep an eye out on Garrett Teel.
The Lincoln Pius Girls 1600 relay team of Tarin Van Slyke, Megan Drozda, Sarah Kottwitz, and Alyssa Thavenet posted the 7th all-time best mark (3:56.57).  Earlier in the evening, Thavenet busted her way into all-time charts to settle in at the No. 10 spot with a 2:14.60 win in the girls 800 meter.
If you love great distance races District A4 was the place to be
Fremont's Danny Aldaba and Millard West's Joe Harter locked horns in the 1600 and 3200. Aldaba nipped Harter in both races. Aldaba edged Harter by a tenth of a second to win the 1600 in 4:17.79; however, only .01 seconds separated the two in the 3200 with Aldaba winning in 9:24.19. Lincoln North Star's Mohmed Hamdan lost the 800 meter to Lincoln Pius X's Jacob Holtmeier in similar fashion (1:55.61 to1:55.62).
On the girls side, Millard West's Sydney Hirsch handily beat 2nd place finisher Jeralyn Poe in the 1600 meter (5:12.98 to 5:18.71) but Poe burned Hirsh in the 3200 meter (11:15.52 to 11:24.28).
Man, oh man, are the boys and girls Class A distance finals going to be sweet to watch at state this year.
Who will be next to enter the All-Time Chart or to move up the list?
*
= New mark during 2013 season.
2013 Active Athlete Rankings 
Event

2013 Athlete, Class yr., School

Mark or Time

Minimum mark/time

required to make chart

Minimum mark/time

required to make chart

100 Meter

Kenzo Cotton, Jr., Papillion-La Vista 

10.40*

 
4th

10.40

11.86

200 Meter

Kenzo Cotton, Jr., Papillion-La Vista 

21.31

4th

21.40

24.67

400 Meter

48.13

55.97

800 Meter

Alyssa Thavenet, Sr. Lincoln Pius X

 

2:14.60*

 

10th*

1:53.30

2:14.73

1600 Meter

Danny Aldaba, Sr., Fremont
Mohamed Hamdan, Sr., Lincoln North Star


4:12.24*




4:14.35*



3rd
6th


4:16.10

4:59.78

3200 Meter

Joe Harter Sr., Millard West


Danny Aldaba,Sr. Fremont

9:05.34*


9:14.06

2nd*


8th

9:16.09

10:47.95

110 Meter HH

14.00

NA

100 Meter HH

Audrey Malone, Jr., Fillmore Central

9th

NA

14.50

300 Meter IM H

37.94

NA

300 Meter LH

Rachel Bramhall, Sr., Papillion-La Vista South

 

43.58

4th

NA

44.06

400 Relay

Papillion-La Vista




(Lucas Hostetler, Jalen Allison, Nick Bartels, Kenzo Cotton) 

 

41.79*

2nd* 

42.14

48.50

1600 Relay

Lincoln Pius X (Mitch Grosserode, Caleb Cowling, Jimmy Hansen, Garrett Teel)


Lincoln Pius X (Tarin Van Slyke, Megan Drozda, Sarah Kottwitz, Alyssa Thavenet)

 

3:17.71

* 

3:56.57*

 2nd* 

7th*

3:19.90

3:57.87

3200 Relay

7:52.80

9:29.56

Shot Put

62′-06 3/4″
47′-7 1/4″

Discus

194′-01″

157′-08″

High Jump

Grant Anderson, Sr., Wayne 

7'00″*

 

7th* 

7′-00″

5′-09″

Long Jump

Tierra Williams, Sr., Auburn

19'06.50"*

3rd*

24′-00 1/2″
19′-02 1/2″

Triple Jump

Tierra Williams, Sr., Auburn

40'02″*

4th*

 
48′-04 1/4″
38′-07 1/4″

Pole Vault

Steven Cahoy, Sr., Grand Island
(Class A Rec.)

Allexis Menghini, Sr., North Platte

15′-11″

11′-08″
Lincoln Journal Star Nebraska High School Track and Field All-Time Best Marks and Times: