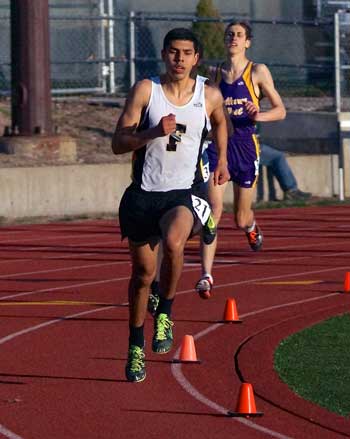 Michelle Woitzel shares some more of her great photo shots from the 2013 Lincoln High Invite
Meet Highlights
Oklahoma recruit Danny Aldaba heated up in the brisk weather to run a season's best 4:17.51 to win the boys 1,600m. The race had Aldaba matching wits and want-to, again, against Lincoln North Star's Mohamed Hamdan—another future Division 1 distance runner and state meet all-class gold medalist. Hamdan finished 2nd well behind Aldaba in 4:25.72, but he won the boys 800m in an impressive meet record and season's best time of 1:55.02.
Freshman sensation girl sensation Chloe Akin-Otiko continues to reign supreme in the girls 100m, winning in 12.39 and also taking first place in the girls long jump 17'8.25" Will she become the girls version of Kenzo Cotton?   I hear Akin-Otiko is a very good basketball player, too.
Nebraska High School Football Notes
Wow! I just updated the MHN Class of 2014 Nebraska High School Football Prospect Board (Click here to view 2014 prospect board). In his article McKewon: Schools have eyes on Prep combo of Stick, Urzendowski, Omaha World-Herald sports writer Sam McKewon wrote, "It's the best class of in-state football prospects since 2008…"  McKewon may be right. D-1A offers are definitely off to a very good start for this class.
[tn3 origin="album" ids="40″ skin="aura-horizontal" transitions="normal blinds" responsive="1″ autoplay="1″ history="1″ mediaelement="1″ touch="1″ imageClick="fullscreen"]
Related Links