2013 shaping up to be another good year for Nebraska high school track and field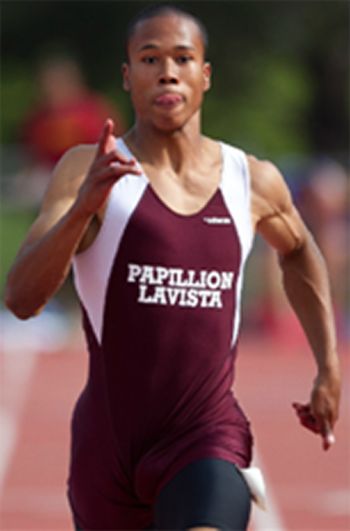 Kansas Relays 2013: Despite the cold and wet weather that has led to numerous meet cancellations this spring, some tough-nosed Nebraska high school track and field athletes continue to turn in very impressive performances.
On Friday Elkhorn South senior Aaliyah Pete unleashed a 47'00.50 throw in the shot put to capture 1st place in the event. Pete's toss was a mere seven inches from making it into the all-time charts.
Caleb Cowling hop, skipped, and jumped to a state-leading 47'03.75" to win the boys triple Jump. The Lincoln Pius X senior's performance was also only seven inches shy of making the all-time chart. Papillion-La Vista's Nick Bartels won the Kansas Relays boys 300 meter with a state-leading 39.28.
Papio South's Rachel Bramhall's  2013 season state-leading time of 44.27 came up just short of winning the girls 300 meter hurdles. Bramahll took second place in a photo finish battle loss to junior Payton Stumbaugh (44.23) of Har-Ber High School, Springdale Arkansas.
On Saturday, Kenzo Cotton won his second consecutive Kansas Relays boys 100 meter championship with a time of 10.69. Cotton also anchored the Papillion-La Vista boys 4X100 team to a first place finish; recording the State of Nebraska's 5th All-time best mark (41.94). That leaves the Papio team of Lucas Hostetler, Jalen Allison, Bartels and Cotton only .20 seconds from Omaha Centrals No. 1 all-time best 47.74 set in 2007. Bartels went on to take third in Saturday afternoon's boys 110 meter hurdle finals (14.76).
Elkhorn South senior Jake Nelson ran an impressive state-leading 49.17 to take 3rd place in the Kansas Relays boys 400 meter dash.  Nelson also leads the state in the 200 meter at 21.50.
Other Notable Nebraska High School Track and Field Performances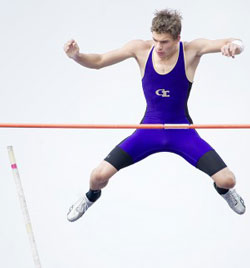 Two weeks ago, Grand Island's Steven Cahoy breaks former Kearney High School vaulter (and Nebraska Cornhusker kicker/punter) Brett Maher's boys Class A pole vault record (16'03.25"). Cahoy barely missed setting a new state record at 16'8". The state record currently stands at 16'7", set by Beatrice's Seth Burney in 2006.
This past week, Tierra Williams became only the 4th Nebraska high school girl triple jumper to leap 40 feet or better. Her 40'2" jump moves the Auburn senior into 4th place on the all-time chart.
Iowa recruit Nathan Bazata punched a monstrous 61'5" throw in the shot put to lead the state in 2013. The Howell-Dodge senior's impressive effort at midpoint in the season makes him a prime candidate to move into the all-time charts. He is only a little more than one foot away.
Again, these are some pretty impressive times and marks considering the awful weather conditions this spring. It looks like the athletes and coaches are going to bring the fans another great Nebraska high School Track and Field State Meet in 2013.
Related Links