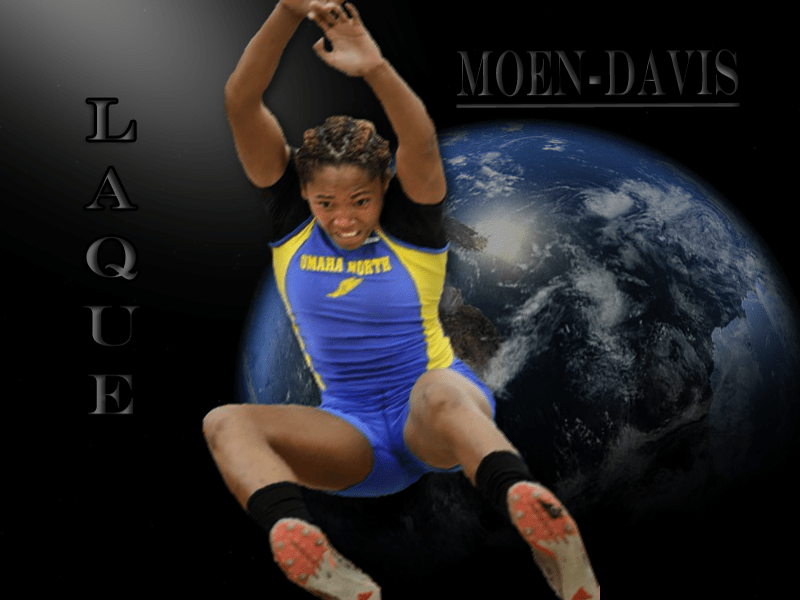 LaQue Moen-Davis Leaps out of this World at the
USATF National Junior Olympic Track and Field Championships
Omaha North grad LaQue Moen-Davis had a spectacular showing at the recently concluded USATF National Junior Olympic Track and Field Championships held in Wichita, Kansas this past week.
Running for the Midwest Striders track team, Moen-Davis started things off earlier in the week by capturing the Heptathlon, winning three of the seven events outright and placing 2nd in two others to score a total of 4692 points. She then moved on to win her top two specialties in the young women long jump (19-6) and triple jump (40-10.25).
Moen-Davis looked for a moment like she had a real chance of grabbing a fourth gold medal when she ran a PR and a Nebraska Association record time of 13.82 in Saturday's semi-final heat of the young women 100m hurdles. But the Texas A&M-bound track and field star had to settle for the bronze with a pedestrian time of 14.10 in Sundays finals.
It's hard to believe that four years have gone by so fast. Yet I feel blessed to have witnessed this young lady perform at such a towering level throughout her high school career. LaQue Moen-Davis is an incredible female track and field athlete — the likes of which Nebraska may not see again for some time.
Thank you, LaQue.
Cotton Clan on the Rise
I told y'all at the beginning of the track season to "get use to hearing the name 'Kenzo Cotton'." Well, now, there is another Cotton — Kurtis Cotton, Keno's youngest brother, who took home two national gold medals by winning the midget boys 100m (11.71) and crushing the Nebraska Association 200m record by .50 seconds to take the 200m in 23.66.
Kenzo ran a PR of 10.87 to win the bronze in the intermediate boys 100m. Both Kenzo and Kurtis run for the Bellevue Breeze Track & Field club (also know as the Bellevue Recreation Youth Club).
My goodness! Daddy Curtis Cotton, a former NU and professional football player, must be smiling ear-to-ear these days.
Other Nebraska High School Track and Fielders Making Noise at the USATF JO Nationals
In the young men discus event Brady Rutt took 3rd (182-2) and Michelle Wallerstedt was 6the in the young women's discus with a toss of 134-11.
Garrett Teel, Dennis and Devin Barfield and Cody Rush took 4th place in the young men 4X400 relay of (3:15.46), running for the Bellevue Recreation Youth Club.  Their time was over 1.5 seconds faster than the 3.17.15 all-time best Nebraska high school 1600relay time set by Fremont in 1985. That's movin'!
Click the link to get all the results for the 2011 USATF National Junior Olympic Track and Field Championships.