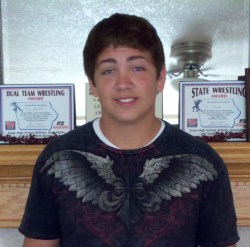 I recently had the pleasure of putting together a rather unique highlight video for Don Dawson III, a very intriguing 6-2, 270lbs defensive tackle out of Indianola High School, located in Indianola, IA.
The thing that made this particular highlight video project unique for me is that the video, captured by his father, Don Dawson II, gives an up-close view of the entire game at the line of scrimmage — giving the viewer a real feel for how the big fellas operate in the trenches. And I'm intrigued by his son, Don, because he shows a lot of potential to become a very effective DT at the college level.
A two-way starter for the Indians in 2010, Dawson recorded 6 sacks, 2 block passes and a bunch of hurries as a DT and he also displayed the same level of nastiness from his guard position on offense—he just flat out wants to knock somebody down!
"That's my kind of player."
I'm sure that much of what Don is capable of doing on the football field is a testament to his wrestling background (well, the kid is from Iowa, the wrestling mega-capital of the world).
His dad says that the CIML All-Conference honorable mention player has been getting a lot of looks from the region's numerous division II football programs but he is hoping that maybe at least some bigger schools will start looking his way, too.
Hopefully, Don will put together a nice enough season in 2011 to make that a reality.
He is already at the door: all he needs to do, now, is kick it in by raising his level of play up a notch from last year.
Good luck, Don.
Check out Don's defense highlights below. Click on the following two links to visit his myWEBThang website to see his: Offense Highlights and animated Photo Slideshow Gallery w/music.