UPDATE: Cotton crushed the Nebraska 100 meter state record today (Saturday, May 18), burning the Burke Stadium rubber on his way to 10.41 win in the finals.
Before that record run, Cotton etched his name again onto the record books when he anchored the Papillion-La Vista boys 400 relay to a 41.40 Class A title. The time smashed the previous state record and all-time best of 41.74 set by Omaha Central in 2007.
His performance on the anchor leg was the fastest I have ever seen him run!
Cotton was not the only star to shine at the 2013 state meet.
Bellevue West freshman Chloe Akin-Otiko arguably delivered the greatest performance of the meet.
After winning the all-class gold in the girls 100 meter with a sub-12-second time (11.998), the freshman blazed a 24.52 in the 200 meter to tie the state meet record. WHEW!!!
I told you all this girl is the real deal. She stays healthy and focused she is going to re-write the sprint record books.
There were several other outstanding performance on the track that impressed. More on those later when I get home.
Friday News:
It is offical: Papillion-La Vista junior Kenzo Cotton now owns both the 200 and 100 meter state meet records.
Cotton ran a 10.51 in heat 1 of the Class A boys 100 meter at the 2013 Nebraska High School State Track and field meet.
I spoke to him shortly after his record run and he said he feels "close to 100%", after his hip surgery this past winter.
I asked Kenzo if he thought he could run faster in the finals on Saturday and he said, "Yes."
I got the record run on film and will post it later tonight.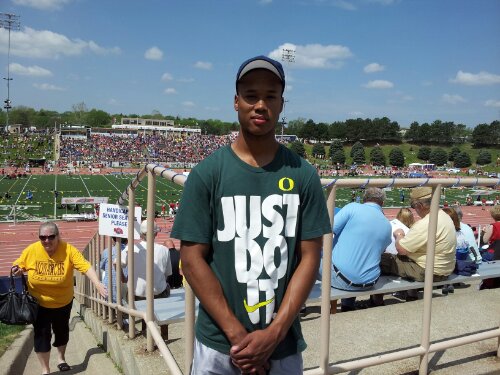 Kenzo Cotton, shortly after breaking Nebraska high school state meet 100 meter record.
Cotton just missed the state record 10.50 set by Omaha Central's Kelly Yancy in 1989.