Omaha North grad (2011) LaQue Moen-Davis wins the 2013 Southeastern Conference (SEC) Outdoor Championships women's long on her last attempt with a PR leap of 21-9.5.  Moen-Davis had fouled on her three previous jumps before she finally nailed the winner.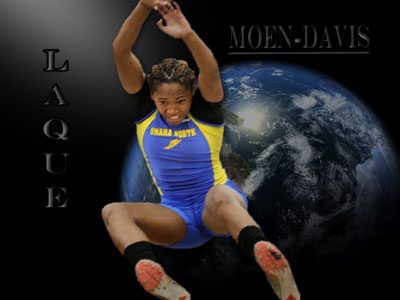 The Texas A&M freshman also had a PR in the triple jump on Sunday (44-9.5), but finished second to Florida sophomore Ciarra Brewer's 45-5.25. The event was held May 9-12 at Audery J. Walton Stadium in Columbia,Missouri.
This past March Moen Davis was chosen SEC Freshman Field Athlete of the Year. Moen-Davis was one of only two freshmen that won an event at the 2013 SEC indoor championships where she won the triple jump with a bound of 44-2.
That makes two conference championships in 2013 for the former Nebraska prep star—one in each of the sandpit jumps. What a great start to her college career at A&M.
Moen-Davis redshirted last season but kept in track & field condition by competing unattached at Texas State.
The 2013 NCAA Outdoor Track and Field Championships will be held June 5-8 in Eugene Oregon. LaQue will be among the top women favorites competing in both the long jump and the triple. 
Go get 'em kid!