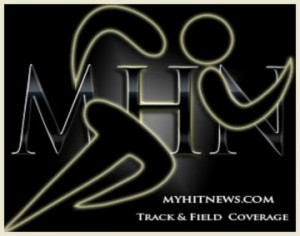 The 2013 Nebraska high school track and field season will rank among the very best ever as far as the number of state records and all-time top ten performances achieved.
Congratulations to all the athletes, coaches, parent/guardians and volunteers that persevered through one of the Midwest region's most brutal spring weather conditions to bring us yet another memorable Nebraska High School track and Field State Meet.
I got some good video footage from the 2013 state meet that I will be releasing over the next several days. So come back and check them out.
Final 2013 Nebraska High School Boys and Girls Track & Field Leaders
Electronic times are denoted by (A)"  Handheld (non-electronic times) are denoted by
"(C)" meaning .24 seconds have been added to the reported time.
Boys
Girls
Sprints

Sprints

100m: Kenzo Cotton, Jr., Papillion-La Vista—10.41 (A).

NE State Record, No. 1 All-Time Best electronic time.

2013 NE All-Class Gold Medalist

100m: Chloe Akin-Otiko, Fr., Bellevue West—12.00 (A).

2013 NE All-Class Gold Medalist

200m: Kenzo Cotton, Jr., Papillion-La Vista—21.52 (A).

2013 NE All-Class Gold Medalist

200m: Chloe Akin-Otiko, Fr., Bellevue West—24.52 (A). 

Class A State Record, NE 7th All-Time Best.

2013 NE All-Class Gold Medalist

400m: Garrett Teel, Sr. Lincoln Pius X—48.10 (A).

NE 8th All-Time Best.

2013 NE All-Class Gold Medalist

400m:

 

Desiree Sanders,

 Jr., Omaha Central—57.01 (A).

2013 NE All-Class Gold Medalist

Distance Runs

Distance Runs

800m: Jacob Holtmeier, Sr. Lincoln Pius X—1:51.72 (A).

Class A State Meet Record, NE 4th All-Time Best.

2013 NE All-Class Gold Medalist

800m: Molly Sughroue, Jr., McCook—2:12.66 (A). NE 4th All-Time Best.

2013 NE All-Class Gold Medalist

1600m: Mohamed Hamdan, Sr., Lincoln North Star—4:13.59 (A).

NE 4th All-Time Best.

2013 NE All-Class Gold Medalist

1600m: Sidney Hirsch, Sr., Millard West—5:03.24 (A).

2013 NE All-Class Gold Medalist

3200m: Joe Harter, Sr., Millard West—9:05.34 (A). NE 2nd All-Time Best.

2013 NE All-Class Gold Medalist

3200m: Sidney Hirsch, Sr., Millard West—10:51.06 (A).

2013 NE All-Class Gold Medalist

Hurdles

Hurdles

110mHH: Nick Bartels, Sr., Papillion-La Vista—14.42 (A).

2013 NE All-Class Gold Medalist

100mHH: Rachel Bramhall, Sr., Papillion-La Vista South and Kayln Brannagan, Sr., Kearney Catholic—14.65 (A).

Class C State Record for Brannagan.

2013 NE All-Class Gold Medalists

300mIM: Nick Bartels, Sr., Papillion-La Vista—38.13 (A).

2013 NE All-Class Gold Medalist

300mLH:  Rachel Brmahall, Sr., Papio—43.44 (A).

NE 3rd All-Time Best.

 

2013 NE All-Class Gold Medalist

Relays

Relays

4X100m: Papillion-La Vista (Lucas Hostetler, Jalen Allison, Nick Bartels, Kenzo Cotton)—41.40 (A). 

NE State Record,

NE No. 1 All-Time Best.

2013 NE All-Class Gold Medalist

4x100m: Millard West (Anna Wagemann, Sarah Fricke, Megan Wilson, Hannah Fowler)—47.81 (A).

NE 3rd All-Time Best.

2013 NE All-Class Gold Medalist

4X400m:  Millard West (Ross Drwal, Skyler Monaghan, Christof Muller, Jordan Flemington)—3:16.48 (A).

NE State Record,

NE No. 1 All-Time Best.

2013 NE All-Class Gold Medalist

4X400m: 

Lincoln Pius X 

(Alyssa Thavenet, Maddi Essay, Maddie Simon, Kathryn Kick—3:55.77 (A). NE 5th All-Time Best.

2013 NE All-Class Gold Medalist

4X800m:

 Lincoln Pius X (Mitch Grosserode, Chad Berens, Bryan Butler, Jacob Holtmeier

)—7:54.26 (A).

2013 NE All-Class Gold Medalist

4X800m: Lincoln Pius X (Tarin Van Slyke, Megan Drozda, Sarah Kottwitz, Alyssa Thavenet)—

9:25.15

NE 5th All-Time Best.

2013 NE All-Class Gold Medalist

Field Events

Field Events

Shot Put: Nathan Bazata, Sr., Howells-Dodge—61'05".

2013 NE All-Class Gold Medalist

Shot Put: Aaliyah Pete, Sr., Elkhorn South—48'05.50″.  

2013 NE All-Class Gold Medalist

Discus: 

Kyle Hansen, Sr., Millard North; Nick Petersen, Sr., Kearney—175'07" 

Discus:

 Michaela Dendinger, Sr., Hartington—151'03"

High Jump: Grant Anderson, Sr., Wayne—7'00".

Ties NE 7th All-Time Best.

High Jump:

 Claire Sintek, So., Norfolk—5'06"

Pole Vault: Steven Cahoy, Sr., Grand Island—16'03.25″.  Class A state record, NE 3rd All-Time Best.

2013 NE All-Class Gold Medalist

Pole Vault: Tara Starzec, Sr., Columbus Scotus—11'08". 

2013 NE All-Class Gold Medalist

Long Jump: Caleb Cowling, Sr., Lincoln Pius X—24'00".  

2013 NE All-Class Gold Medalist

Long Jump: 

Tierra Williams, Sr., Auburn

—20'01.25″. NE 2nd All-Time Best.

2013 NE All-Class Gold Medalist

Triple Jump: Derek Zimmerman, Jr., Freeman—47'07".

2013 NE All-Class Gold Medalist

Triple Jump: Tierra Williams, Sr., Auburn—40'02". NE 4th All-Time Best.

2013 NE All-Class Gold Medalist