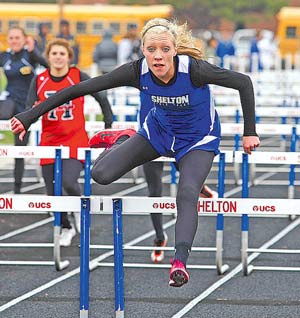 Kayln Brannagan first hit the bull's-eye on the track & field radar in her freshman year at the 2010 state meet. That is when the long blonde girl from Shelton won the Class C 300 meter hurdles and, in so doing, captured the all-class gold medal by hundredths of a second over Class A's LaQue Moen-Davis.  
Brannagan's triumph that day prevented Moen-Davis from becoming the first athlete at a state meet to win four individual event all-class gold medals. Ever since I've been waiting for her to crack into the all-time chart in the girls 300 low hurdles. But never did I imagine that she would also be bumping up against the chart in the 100 high hurdles and even—the 100 meter dash.
Yet this is exactly where the talented junior stands these days
Currently, Brannagan leads the state in three events: 300m LH (44.53); 100m HH (14.72) and 100m (12.08). Her 100m time produced at last Friday's Don Bader Lexington Invitational ranks among the fastest recorded in recent years.
Right now—Kayln Brannagan is the hottest girl on the track!
Is the two-time 300m low hurdle all-class gold medalist really that good? Yep! However, even though she did win the Class C 1 100m last year—and I did see that race up close and personal—I wasn't wooed by her sprinting ability and the 12.64 time. However, her form was definitely advanced enough that one could tell that if she got down to work she could run much better times.
Obviously—Kayln Brannagan has been hard at work.
It will be interesting to see how much more she can improve between now and the end of her senior season next year.
Expect to see her burst into the all-time chart—soon.
Related Links