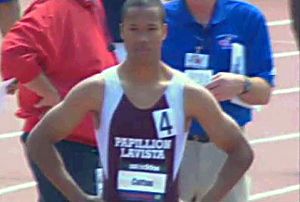 On Saturday afternoon, Papillion-La Vista Sophomore Kenzo Cotton got off to a decent start and then ran away from the field to win the Kansas Relays boys 100 meter dash in 10.61.
The fully automated (FAT) time is an electronically timed PR for Cotton.  The time is also one of the fastest electronically-timed boys 100m ever recorded by a Nebraska high school boy (tied for 8th best on electronic all-time chart).
The 2.1 wind speed was just barely .10 over the allowable limit for an official record. Therefore, at this point in time, based on his accomplishments last season as a freshman and the physical and mental maturation Kenzo Cotton has already displayed this season—is it possible that the State of Nebraska may be witnessing the birth of a world-class sprinter right in their own backyard?
Clara Nichols, Millard South—the girls 400m state record holder came up short in a 400m race for the first time in a long time, finishing second in 56.07, to Francis Howell's Whitney Adams (55.28).
Nichols looked drained coming down the home stretch—not able to summon the energy to catch Howell.
Well, champions learn and bounce back!

Boys Discus: Nick Petersen, Kearney, placed 5th—167-01
Boys 4X100 Relay: Kearney (Jordan Ingersoll, Isaac Brown, Trey Anderson, Tyler Gillen) placed 2nd—42.66—a photo finish loss to Grandview (42.62).
Boys Sprint Medley: Omaha Gross Catholic (Alex Hunt, Matt Sullivan, Jake Johnson, Anton Rice) placed 4th—3:39.52.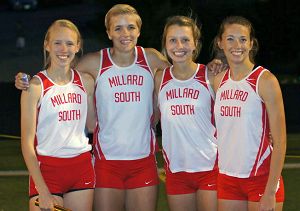 Girls Sprint Medley: Tri County (Amber Staroscik, Shelby Cammack, Sydney Holtmeier, Maci Hicks) placed 5th—4:21.02.
Girls 4X880 Relay:  Kearney (Jordyn Dahlke, Megan Sughroue, Mandy Sughroue, Delaney McFadden) placed 8th—9:47.74
Girls 4X400 Relay: Millard South (Macy Woitzel, Morgan Woitzel, Tatum Stenger, Clara Nichols) placed 2nd —3:55.71  Nebraska 3rd all-time chart mark.
The Kansas Relays girls 4X400 winning time of 3:49.64 ran by Evanston Township beats the Nebraska all-time chart best of 3:53.42 (Lincoln Southeast, 2008) by nearly 4 seconds.
Boys 1600: Marshall Anderson, Papillion-La Vista, placed 7th—4:23.26.
Below, watch video 'Kenzo Cotton wins the Kansas Relays Boys 100m':

Related Links
'2012 Kansas Relays Friday Results Update: Kearney Wins Boys 4X 1 mile, cotton And Nichols Advance'
'Reese Hoffa Opens 2012 Kansas Relays with World-Leading Shot Put Throw'