Millard South Track Star Seeking to Put Exclamation Mark on Outstanding Prep Career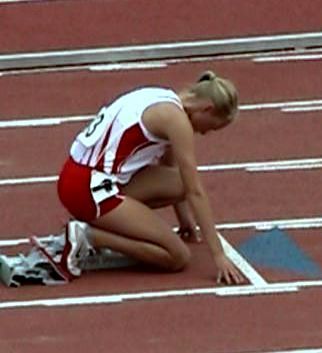 Millard South state champion sprinter Clara Nichols has chosen Oklahoma State University as the place where she will continue her academic pursuits and track career.
Nichols, who blazed to a state record-breaking time of 55.05 in the 400 meter at last year's state meet, had numerous division 1 suitors; however, she eventually narrowed down the list and took official visits to Nebraska, Wisconsin, Minnesota, Kansas and Oklahoma State.
Nichols gave several reasons why she finally picked the Stillwater, Oklahoma campus over the other schools: "My academic meeting was by far the most informative – I plan to major in dietetics.  And I know I will develop into an outstanding 800m runner there by training with a teammate who was 2nd at outdoor nationals as a freshman last year.
That future teammate Nichols referred to is Natalja Piliusina, the 2011 Big 12 800 meter outdoor champion and OSU school record holder.
The icing on the cake that sealed the deal for Clara to attend OSU: "I felt included in the team almost like I was a part of it already," she said.
So ring one up for OSU head track and field coach Dave Smith and his staff as well as the rest of Nichols' soon-to-be Cowgirl teammates. Because your team is getting a focused, determined, quality athlete with a lot of upside that has the ability to produce meet points right away. Yet before Nichols heads off to Stillwater she has one more high school season to finish.
The Legacy
Nichols has already solidified her position as greatest high school girl 400 meter sprinter in Nebraska history: Firstly, winning the all-class gold in the event as a freshman and then setting the all time mark as a junior. During her run up the Nebraska high school all-time best chart, Nichols has won 3 consecutive Class A 400m state titles, 2 all-class gold 400m medals, 1 all-class gold 200m medal and 2 all-class gold medals as a member of the Patriots 1600m relay team. Plus 2 all-class silver medals apiece in the 100m and 200m.
Clara Nichols
Nebraska State Track & Field Meet Performance Chart

Event

2009




Freshman

2010




Sophomore

2011




Junior

100m

NA

All-Class Silver
12.18

All-Class Silver


12.08

200m

All-Class Silver
25.25
All-Class Silver
25.05
All-Class Gold
24.80

400m

All-Class Gold


56.06

All-Class Silver

,

Class A Champ




Finals: 57.45 Heat: 56.59

All-Class Gold


55.05

1600m Relay

All-Class Silver


3:59.84
All-Class Gold
4:00.38

All-Class Gold


3:58.28
So what's left on the plate for Clara? Hmm, how about holding the mantle of Nebraska's greatest ever all-around girl sprinter?
Well, after considering her tremendous performance at last year's  state meet where she won all-class gold in the 200m and 400m and a silver in the 100m – Nichols definitely has to be in the conversation when it comes to debates about who is the best ever Nebraska high school girl sprinter. And remember it took a state record performance by Omaha North's Breuanna McCarty (now running for the Huskers) to keep Nichols from sweeping the sprints in 2011.
The great Sarah Lyons (Omaha Brownell-Talbot) is the last girl to sweep the girls sprints events at state. Lyons, who continued her career at Rice, managed to pull off the rare and difficult feat two years in a row (2005 and 2006). Incredible!
Can the Patriot Golden Girl better last year's marks – break her own state record and/or possibly even sweep the sprints at state in 2012?
Determination, competition, health and the weather will all play critical roles in the outcome. However, if Nichols and her team of coaches can bring her along as brilliantly as they did last season –  and for her entire career for that matter – we can all be in for another treat at this year's state meet.
The Patriot coaches that Nichols credits with her success on the track at Millard South are head coach Justin Llewellyn and assistants Phyllis Schroeder and Josef Philippi.
"I think I will be running pretty much the same events this year, with a couple 800s here and there," Nichols said in response to her plans for the upcoming high school track season.
Now considering that OSU is looking at her as a 400m and 800m performer, I wonder if we may even see her post some all-time Nebraska marks in the 800m this year. Just sayin'.
As true an athletic warrior as I've ever seen (boy or girl); we have yet to see Clara Nichols' finest hour.