No Letdown Here: Husker Football Program Continues to Collect the Best Talent in the State – Without Having to Pay a Dime for It!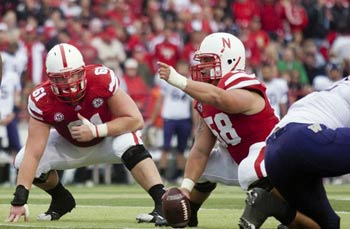 The allure of donning the white helmet embossed with that big red N and playing in front of eighty thousand plus screaming fans remains an intoxicating elixir. Even during the current hard economic times student athletes and their parent/guardians are willing to push aside – free – scholarship monies for the opportunity to – pay – for their education at Nebraska – just so long as they are able to wear that helmet.
Evidence of the power of "The Husker Pull" is the haul of outstanding Nebraska high school football players that Bo Pelini and his staff have managed to convince to walk-on at NU.
This may be Bo's best Nebraska high school walk-on class yet with at least one of his catch, Dylan Utter, having in hand a D-1A offer from Army. In addition, several others in this class are holding D-1AA offers. 
In my opinion the Nebraska high school walk-ons from the class of 2012 show more potential for successful development than any of Pelini's previous walk-on classes. Impressive, considering that his previous walk-on classes feature players like Elkhorn's Spencer Long (OL) and Trevor Roach (LB) who have already earned significant playing time.
Nebraska HS  Class of 2012

Preferred Husker Walk-ons
Last Updated February 1, 2012
Ryker Fyfe, QB, 6-4, 195, Grand Island
Dylan Utter, OL, 6-3, 300, Papillion-La Vista
Sam Foltz, DB/P, 6-2, 190, Grand Island
Trey Foster, DL, 6-3, 235, Lincoln Southeast
Andy Janovich, LB, 6-1, 200, Gretna
Graham Nabity, RB, 6-1, 200, Elkhorn
Mitch McCann, LB/FB,  6-2, 225, Omaha Burke
Brad Simpson, DB, 6-2, 205, Ralston
Jordan Nelson, RB, 5-7, 175, Omaha Burke
Carson Collins, RB, 5-10, 220, Omaha Burke
Brandon Reilly, WR, 6-2, 180,  Lincoln Southwest
Ross Dzuris, TE, 6-4, 220, Plattsmouth
Cole Chvatal, WR, 6-0, 180, Wahoo Bishop Neuman
Garret Johns, OL, 6-2, 270, Auroa
Jared Blum, TE/DE, 6-5, 235, Gretna
Spencer Lindsay, K, 5-10-195, Kearney
Taylor Hoffman, LB/FB, 6-1, 200, Oakland Craig
Click here to See Nebraska HS Football Class of 2012 Offer and Commitment List
Related Link:
Will of a Champion article: "Spencer Long walked-on to the University of Nebraska football team in 2009 to play offensive line. In 2011 he is the starting Right Guard"