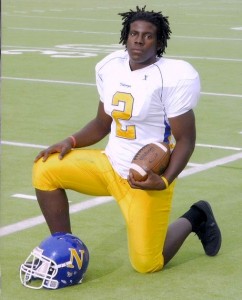 Class of 2011 prospect Brandin Bryant, a  6-foot-2, 255 lbs. DE/LB who played at Omaha North High School, will sign a letter of intent to play for Carl Pelini at Florida Atlantic University.
Bryant played at Fort Scott Community College last season and said that he was recruited by FAU recruiting coordinator and wide receivers coach Jeff Sims to play DE and OLB.
Bryant was not a high-profile recruit coming out of high school. In fact he was not selected to any of the all-state first or second teams.  But to the discerning eye there was absolutely no doubt that if you watched him play – he was a bona fide division 1 talent.
Click here to view the article I wrote about Brandin for the release of his highlight video.
Bryant's lack of recruitment and recognition came entirely from the fact that he didn't' always take things seriously – putting it politely. I mean to say that he likes to clown and joke around a lot is a huge understatement. And I can say that because I've known Brandin since he was about seven years old.
Consequently, Brandin constantly chided me about not putting him on the MHN Top 25 Prospect ranking and told me that he would get the last laugh and prove me and everyone else wrong! And so he has. But remember Brandin I did say that "the cream always raises to the top" and "someone is going to "lick this cream [you] up."
We all just needed to see you take things just a little more seriously.
Now the Florida Atlantic University fans are about to get a taste of that "scrumdiddilyumptious" Nebraska bred cream.