Track Season: Already?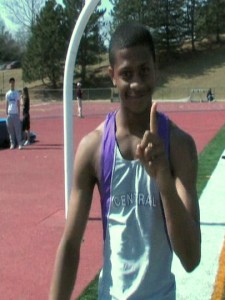 By Will Cummings
myHitNews.com
   You might say that Deverell Biggs, a 6-0 junior out of Omaha Central High School, had a very good weekend: Saturday Biggs was selected to the Omaha World Herald's All-Metro Boys Basketball First Team and on Sunday he was named to the World-Herald's All-Nebraska Third Team and Class A First Team. Sandwiched between these goodies,  the kid with the infectious smile provided the individual highlight of the meet and put his name on the track and field map by popping a meet best 6-foot-6-inch high jump at the 25th annual Burke Relays, on Saturday.
   What should be worrisome to Biggs' comp is that he just came off the basketball court and cleared 6-6 with ease and with air to spare.  After claiming the top jump, Biggs barley missed setting a Central school record (6-7) with his three attempts at 6-foot-8-inches.
   Team Central also provided another top performance when its 800 relay edged out Omaha Burke to set a meet record of 1:29.54.  And Omaha Burke set the 1600 relay record with a time of 3:25.54.
   Congratulations to the 2009 Burke Relays Meet Champion Millard West
   The original intent was to start myHitNews.com's track and field coverage with the April 4th South High Packer's Invite.  However, it was just too hard to resist going out to watch a little track and field on such a picture perfect day.  Stay tuned—this Sunday March 29thwhen MyHitNews.com will present a preview of the top athletes to watch during the 2009 Track Season.
Below are videos of Biggs' jump and Central's meet record breaking 800 relay team: