Wade Receives Late Invite To Husker Spring Game After Staff Reviews Film
 He may be best DB prospect in State of Nebraska for 2010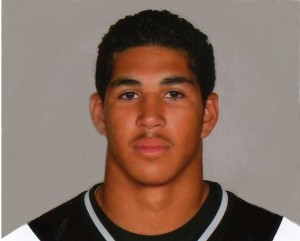 By Will Cummings
 myHitNews.com
   During discussions about the top Class of 2010 high school football prospects in the state of Nebraska, the name Yusef Wadeis not one that is readily available on the tip of any person's tongue: or for that matter, his name never even comes to mind. But as one who has seen a lot of Nebraska high school football and watched a lot of of game film, the 6-foot, 180 pound, Lincoln North Star senior- to-be (he played at Lincoln Northeast last season) has as good a base skill set and is as good a defensive back prospect as any Nebraska high schooler I've seen over the past three years—a couple of whom are now playing D-1 ball
   The question one must ask, at this point in the 2010 recruiting cycle, how does a kid with Yusef Wade's size and talent not even get a nod in his direction, beforehand?  There are definite reasons for it, but since I am late to the party too, let's leave that discussion for another time and let me share how I stumbled upon Wade in the first place.
How I Stumbled Upon Yusef Wade
    I first noticed Yusef Wade about a month ago, during my first visit to the Redzone Leadership Academy. While there, I couldn't help but notice the physically well-put-together, hard working young man who had the quick feet and good smooth-turning flexible hips. At first glance his muscularly defined physique and smooth movement, led me to wonder if he may be one of the college players training at Redzone, But no matter what level he played, one thing for sure, I thought — he sure is top-notch at performing all the drills.
   Admittedly, most of my attention was focused on the big names and recognizable faces that trained at Redzone—there are always plenty there. But Wade–who's name I didn't know at the time–kept catching my eye with his physique, foot speed and quickness.
    Fast forward several weeks later: Redzone Leadership Academy founder, Yano Jones, introduces me to Yusef's father, "Tommy" Wade, who proceeded to tell me this story about how his son got a late invite to the Nebraska Spring Football Game as a result of the Husker staff having reviewed his film. Whoa, I said in my mind "why don't I know about this kid?" However, the real intrigue came when I realized that his son, Yusef, was the hard working, quick-footed kid that kept drawing my attention—now I knew I had to see this film!
  Yusef Wade's Dedicaton To Redzone Training
   But wait a minute, here, Mr. Wade. The Redzone Leadership Academy is in Omaha, and you live in Lincoln and your son goes to school in Lincoln. Right? "I bring Yusef up here twice a week," said Mr. Wade. And Mr. Wade has been bringing his son, Yusef, to the Redzone Academy ever since he was a freshman in high school—this story is getting deeper by the minute!
   My jaw dropped when Mr. Wade told be about his twice a week commute from Lincoln to Omaha. I asked him "Why do you drive all the way from Lincoln to have Yusef train at Redzone? Yano (Yano Jones) is good people and I know Yusef has benefited a lot from the program," responded Mr. Wade.
   So, can I see this film that got the Husker's to give Yusef an invite to the Spring game? Mr. Wade obliged and asked me to highlight the film to boot.
Yusef On Film
   The footwork and quickness displayed by Yusef on film was of no surprise to me, based on what I saw at Redzone. However, one can not measure football instinct, toughness, and play-making ability through drills and these are the areas that impressed me the most about watching Yusef Wade on film—the kid is a player!
Breaking Down Yusef Wade
Wade is a sure tackling very instinctive DB that if he doesn't punish his opponent on initial contact, he will attempt to do so while driving him into the ground—he plays defense with an attitude and appears to be a very good run stopper.
Wade's keen football instincts, good hips, very fluid movement, balance, and quick feet combine to allow him to make the kind of plays on ball–in the air or on the ground–that you expect to see from a legit D-1 defensive back prospect.
Shows good anticipation and reaction to QB and can close ground on receiver in a hurry when ball is in the air, which gives him the proven ability to deflect or intercept balls.

   Oh, just in case you were wondering, Wade can play WR just as well—but it is at DB where we believe his best opportunity exist.
   These days when it comes to DB's–speed is king! And 40 yard dash time is what will ultimately decide what level of college ball Yusef Wade will play.
   Wade has yet to be timed in the 40 yard dash this year, but he feels that he runs somewhere at least in the low 4.5 range. Wade recently finished 4th in the 55 meter dash at the Nebraska Wesleyan College High School Indoor Invite. His fellow Redzone partner Antaries Daniels finished first with an event record time of 6.20, beating the old record of 6.29 by nearly a tenth of a second. Wade also long jumped nearly 21 feet as a sophomore and looks to go over 22 feet this track season.
Yusef Wade: From Near Obscurity To Among Top In Class of 2010
In conclusion, There is no doubt that Yusef Wade is going to pass the eyeball test with college coaches—he looks every bit the part of a football player. In addition, many coaches are going to like what they see Yusef Wade do on film too. Combine these elements with a good legit 40 time by Yusef Wade and he is looking at a real good shot at playing with the big boys on Saturdays.
   Today, myHitNews.com clearly recognizes Yusef Wade among the top Nebraska high school football prospects in the Class of 2010.
Below, check out Yusef Wade for yourself:  
httpv://www.youtube.com/watch?v=o9hjlFSCmnQ
Related Links:
Redzone Leadership Academy