Class C Sprinter Takes On the Big Girls of Class A for Gold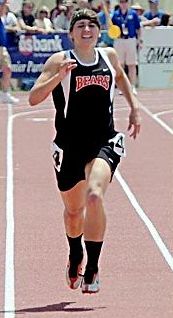 By Will Cummings
myHitNews.com
   Class C speedster

Bethany DeLong

–one of the state's top all-time-best girl high school athletes–will attempt to outperform a talented field of Class A sprinters and claim her first All-Class gold medal in a sprint race at the Nebraska High School Track & Field Championships.
The senior track and field star and all-state basketball player from Laurel Concord got her first taste of All-Class gold last season by winning the girls long jump with a Class C state meet record leap of 19-feet-1.5 inches. DeLong entered last year's state meet having posted some of the top regular season times in both the 100 and 200; however, despite claiming the Class C titles in both events–she came up short in the All-Class Gold standings.
   DeLong's inability to secure a top sprint medal in 2009 had more to do with some nagging injuries combined with the lack of quality Class C competition at the state meet than it did with her athletic prowess.  This year a healthier and more seasoned DeLong will need to dramatically overcome that same dearth of  talent in her class if she is to claim All-Class sprint gold.  And she had better be movin' lively because a couple of those girls in Class A can fly!
100 Meter
DeLong has posted a 2010 personal best time of 12.24 in the 100. Heading the list of her competitors is reigning All-Class gold medal 100 meter champion Maia Reynolds (12.22) from Omaha North. The Viking junior has been injured much of the year but looks to be back in form as she posted a strong 12.31 time at districts.   The only other 100 meter sprinter entered that may be capable of challenging these two is Millard South sophomore Clara Nichols (12.34). Nichols won All-Class gold in the 400 meter last year as a freshman– she will have to run the race of her life to claim All-Class in the 100.
Prediction 
Reynolds full health is still questionable and DeLong's lack of Class C comp to push her is worrisome. Nothing against the junior from Omaha North, but My sentimental favorite here is Delong—I just like to see great athletes finish out on top. Bottom line: This one is a tossup.
200 Meter
Things will be a little tougher for DeLong (24.9) in the 200. Omaha North's budding track star Brianna McGhee has lit up the track the track this season in the 200 (24.84) and Millard South sophomore Clara Nichols (25.29) will figure into the mix.
Prediction
Brianna McGhee should get a strong enough push from Nichols and the rest of Class A (including a couple of her teammates) to claim All-Class gold. This prediction will only true if DeLong merely decides to concern herself more with the Class C competition rather than simply running to perfection.  If she can manage to do the latter she will overcome.
Farewell Bethany DeLong
   DeLong  will conclude her remarkable  high school career this weekend and I can only suspect that she would like nothing better than to end it on Saturday by walking out of Burke Stadium wearing an All-Class Gold sprint medal (or two) around her neck.
   No matter what the outcome is at state,
"Thanks, Bethany, for giving us your best throughout your outstanding high school career and for achieving new standards to inspire those that follow."
Betany Delong has accepted a student/athletic scholarship from Colorado State University to continue her education and track and field career.