Boys 100 Meter All-Class Gold Chase Looks to Be a Thriller
By Will Cummings
myHitNews.com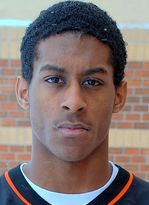 Friday, May 21st,  marks the beginning of the end for the 2010 Nebraska High School Track and Field season. This season that has introduced us to some new talent in the likes of Beatrice junior sprinter Daniel Davie, Omaha Northwest senior high hurdler Elijah Mason, Omaha North sophomore sprinter Brianna McGhee, Millard West freshman distance runner Sidney Hirsch, and Papillion-La Vista sophomore longman Marshall Anderson.
   In addition to the fresh crop of talent that budded during 2010, the season has also produced several record-breaking and state leading performance times and marks by stalwart athletes like LaQue Moen-Davis (nation's leading and Nebraska all-time best 42′ 1.5″ triple jump and Nebraska all-time best 19′ 11″ long jump), Morgan Woitzel (season's best 400 and 800 times), Bethany  DeLong (near top marks in 100, 200 and long jump), Maia Reynolds (season's best Class A 100 time) Alyssa Kamphaus (owns season's top shot and discus marks), Tim Thompson (wind-aided and hand-held 10.20 100 meter clocking shattered the previous Nebraska all-time record), Thomas Hodges (season's  top Class A 100 time), Devrell Biggs (6′ 10″ high jump ties for season's best), Sam Housh (remains among the top in the 110 HH) and Ted Lampkin (leads the state in the long–with state's 5th all-time best mark at 24′ 4.75″– and is tied for season's best triple jump).
   Overall, the 2010 campaign seemed to lack the full-throttle punch that I had anticipated at the beginning of season. I just thought that with so many quality performers from last year returning to test the limits of their skills against the rubber, sand, bars and grass that a little bit more noise would be made in certain events.  Nonetheless–weather permitting–there is still hope that with such a healthy number of high caliber performers heading to Burke Stadium for the 2010 track and field finale, we will see the kinds of fireworks that I had envisioned from the start.
Questions to Be Answered at State
   Has Millard South's Claire Nichols hit a plateau?  Or is she nursing an injury or focusing more on other events?  Or is Nichols simply saving her energy to put on a show for us at state?  In either case, I had hoped– hoped–to see some better times in the 400 from her and teammate Morgan Woitzel.  However, It would be unfair not to mention that both have bettered their personal best marks in other events this season—Nichols in the100 (12.36) and Woitzel in the 800. Will Burke's Stephon Washington capture his fourth state meet 300 meter low hurdle title?  Will LaQue Moen-Davis hold onto her 100 meter hurdle crown with her teammate–and emerging star–Brianna McGhee breathing down her neck– actually beating her in the event at districts? Will Class C senior Bethany DeLong finally win an All-Class gold sprint medal? Can Teddy Lampkin fly past 25 feet in the long jump? Will freshman Sidney Hirsch triumph at state and can Deverell Biggs retain his state high jump crown by holding off all comers?  And of course who are the fastest boy and girl in Nebraska?  We'll soon find the answers to these questions.
Must-See Action at 2010 State Meet
   In this writer's opinion, the most hotly contested must-see individual boys events at the 2010 Nebraska High School Track & Field Championships will be the quest for the All-Class Gold Medal in the 100 meter, 200 meter, 110 meter HH, 800 meter, high jump and triple jump. The girl's most competitive events include the hunt for All-Class Gold in 100 meter, 200 meter, 400 meter, 1600 meter and high jump.
During the next few days leading up to the State Meet,  MHN will preview some of the most hotly contested All-Class Gold events and the top-flight boys and girls who will provide all the heat in these contests.  
Boys 100 Meter
   This event is loaded!  And if the weather cooperates there is enough talent here to at least threaten the All-class state meet record. Accordingly, projecting the eventual 2010 all-class gold 100 meter medalist could be achieved  more accurately by simply pulling it out of hat containing about a half dozen of Nebraska's top sprinters.  
   Among the names in that hat would be:  Boys Town's (Class B) junior Tim Thompson–he owns the fastest Nebraska high school time ever recorded (10.2) in the event; Beatrice (Class B) junior Daniel Davie (10.4), has really been on fire posting quality times late in the season; Omaha North (Class A) senior Thomas Hodges (10.52) has been a consistent winner all season; Sidney (Class B) senior Brandon Segelke(10.74) also shows promise and we one can't ignore Omaha Central (Class A) junior Ted Lampkin (10.84) or Omaha Northwest (Class A) senior Antaries Daniels (10.95) — both athletes have turned in strong season-ending performances in this event.
Prediction
   Boy, it's really hard to go against Thompson's all-time best 10.2 and his recent 10.60 district time. Therefore, Boys Town's Tim Thompson is my pick-of-the-hat to win the Boys 100 meter All-Class Gold—but watch out for Davie and Hodges in that order.
Next: Girls 100 & 200 Meter.