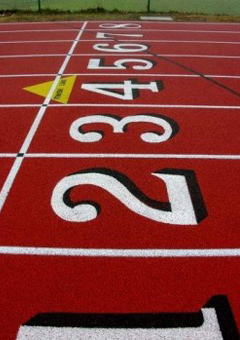 Kearney boys 4X1 mile relay team (Tim Smith, Nolan Zimmer, Dillon Graf, Jacob Olson) captured gold at the 2012 Kansas Relays on Friday with a winning time of 18:02.82. New meet record.

Papillion's Kenzo Cotton came off yesterday evening's hand-held 10.40 100m victory at the Dennis Smith Invite to post an electronically timed 10.67 in the 100m boys prelims at the Kansas Relays, on Friday morning. It was the fastest boys time posted out of the 5 heats. Cotton advances to Saturday's finals where he hopes to bring home the gold.
Clara Nichols, looking to defend her 2011 Kansas Relays 400m crown, advances to the finals with the event's second fastest prelim time of 57.33.
Tim Thompson (Boys Town class of 2010)—Nebraska's all-time chart leader in the 100m and now running for the Nebraska Cornhuskers—won his Kansas Relays men division 100m heat with a 10.42 clocking to advance to Saturday's finals. The time is a college PR for the sophomore and was the third fastest men's qualifying time on Friday.
Late Afternoon/Evening Results
Mach Dojiok, Omaha Benson, comes up big in another tight race to capture the Boys 800m gold at the 2012 Kansas Relays.
Dojiok hit the finish line at 1:55.24 to outduel Wichita-Bish's David Thor (1:55.65) in the third and final heat of the boys 800m. Omaha Gross' Anton Rice took the bronze at 1:56.47.

Morgan Woitzel, Millard South, placed 6th in the girls 800m with a Nebraska season-best time of 2:16.98.
Kearney Boys Distance Medley Team (Tim Smith, Isaac Brown, Nolan Zimmer, Jacob Olson) claims 6th place—10:51.82.
Kearney Boys 4X100 Team (Tyler Gillen, Jordan Ingersoll, Trey Anderson, Isaac Brown) qualified for Saturdays finals by winning heat 5 of 6 with the 4th fastest time of the day (43.18).
Millard South Girls 4X400 Team (Macy Woitzel, Morgan Woitzel, Tatum Stenger,  Clara Nichols) wins heat 1 of 6 to advance to Saturday's finals. Their qualifying time of 4:01.16 was third fastest.
Boys Shot Put: Blair's T.J. Schindler places 3rd with a throw of 56'10", while Kearney's Luke McNitt finishes 6th   (55'02.25″) and Papillion's Dylan Utter comes in 8th (54'01").
Boys Triple Jump: Bryce Sheard, Papillion-La Vista, places 7th—44'07.50″.
Boys Pole Vault: Nick Beach, Bennington, places 7th—13'11.25″.
More results to come…