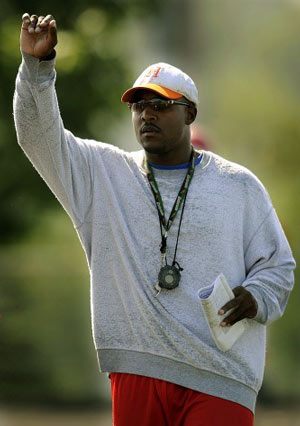 According to media reports former Nebraska Cornhusker I-back Damon Benning has resigned from his position as head coach of the Omaha Northwest Huskies.
Benning did not win a single game at Northwest since he replaced former Husky head coach Jerry Shank in 2009: he leaves the program with a head coaching record of 0-27.
Despite Benning's winless record he is, however, credited with dramatically increasing athlete participation at Northwest—nearly tripling the number of boys who came out to play football for the Huskies.
Unfortunately, at a time when the school has lost roughly 40 percent of its student enrollment since 2005, compounded by the fact that the parents of the best prospective athletes in the community universally reject even the thought of sending their sons to Northwest—it makes for a hard row to hoe for any coach to achieve success. But so will be the task for Benning's replacement Tim Clemenger.
Clemenger has been part of Benning's staff since his arrival three years ago. Hopefully, he can pick up where Damon Benning left off and—at the very least—earn a victory or two every season.
Good luck with that Coach Clemenger!
Related Links
'Damon Benning Radio and TV Personality or High School Football Coach'
'Damon Benning: New Omaha Northwest Head Football Coach Has Lot of Hope Riding His Shoulders'