This is Part 1 of 3: Nebraska HS Track and Field State Meet Championships Notes:

Part 1: Farewell to Three of the Best Ever

The joy of witnessing an oustanding state track and field meet is tempered by the sadness of realizing that I will no longer see some of the best ever Nebraska high school athletes perform their magic at Burke Stadium: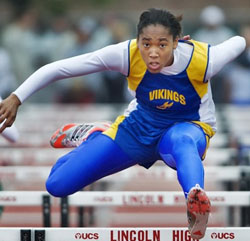 LaQue Moen-Davis:  Nebraska's All-Time Greatest High School Track and Field Athlete

LaQue went out in style at the state meet, winning three individual gold medals and setting a state record in the 100 meter HH (13.87) and a state meet record in the triple jump (41-4.5).

Moen-Davis ends her extraordinary high school career holding state records and No. 1 all-time chart performances in three different events: triple jump (42-4); long jump (20-2.5) and 100m HH (13.87) and has collected a total of 10 all-class state meet gold medals. Her state record triple jump led the nation in 2010.

Currently, LaQue's 2011 season national rankings stand at: No. 2 triple jump (41-9.5); No. 5 100 meter HH (13.87) and No. 9 long jump (19-10. 5). That makes her one of the top high school girl track and field athletes in the nation.
Headed to Texas A&M, LaQue has all the earmarks of becoming an Olympic-class athlete; hopefully, her academics marks will allow her to compete right away for the Aggies. If not, "Hang in there kid and do what it takes to make it so. Because I want to someday see you on television representing the USA in Olympic competition."

The beautifully-put-together distance runner who runs with remarkable effortless form may not hold Nebraska's No. 1 all-time marks or all-class state records in the 1600m or 3200m, but in my book she is still the best Nebraska high school girl distance runner I've ever seen.

Divine Providence

After seeing her run, I'm convinced that Aubree Worden would own the 1600m and 3200m No. 1 all-time marks if it were not for the early season bone spur injury to her heel.  However, Worden's ability to bounce back from this serious injury—which could have required surgery—is a testament to her strong mental toughness and focus. F
ortunately, a timely intervention and sage advice from Kevin Sullivan

,

the husband of Florida State women's distance coach Karen Harvey

,

enabled Aubree to continue to perform this year.


Kevin Sullivan is a former Canadian Olympian distance runner who suffered a similar injury during his career that required surgery. He advised Aubree to wear an orthopedic device around her foot at night. It worked! Thereby, giving her the means to thrill us all with her grace and record-breaking performances around the state meet track at Burke Stadium.

Currently, Worden's 2011 season national rankings stand at: No. 8 1600m (4:50.06) and No. 10 3200m (10:27.33) Aubree finishes her high school career ranked No.2 on the all-time charts in the 1600m and No. 3 in the 3200m, a three-time state champion and the owner of both Class B state records.

Future Olympian in the Making?

I think so. I'm definitely anxious to follow her career at Florida State—she has already benefited tremendously from their coaching staff.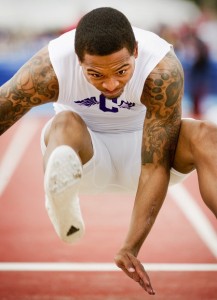 Ted Lampkin—Ranks High Among the All-Time Greatest Nebraska High School Boy Athletes

The first boy in nearly twenty years to win four track and field gold medals at the state meet and the first in nineteen years to win four at the Metro Conference meet—is one of the fiercest competitors and most athletically gifted athletes to ever come out of Nebraska.

Lampkin took gold in the 100m (10.75); long jump (24-.05); triple jump (47-9.75) and 400 relay (41.94). His long jump was the 4th best gold medal performance since 1903. Only Bellevue East's

Robert Rands'

2005 jump (24-11.25) and

Artis Garris'

1992 leap (24-7) and Omaha Central's

Gale Sayers'

1961 all-time state meet record 24-10.5 performance have been longer.

His anchor leg on the Eagles 400 relay helped the team to post the 3rd fastest state meet gold medal time in history (41.97) and his overall contribution to his team's point total has allowed the Eagles to capture two consecutive state meet boys team championships.


Currently, Lampkin's 2011 season national rankings stand at: No.19 long jump (24-.50): No. 40 triple jump (47-7.25) and No. 115 100m (10.69). His career best long jump of 24-4.5 stands 5th on the all-time chart; his best triple (48-2.75) missed the chart by less than two inches and his Eagles 400 relay team finishes at No. 5 on the all-time chart.

Future Career

The First Team All-Nebraska football player is blessed with great athleticism, 4.37 40 yard speed, and a warrior-like competitive spirit, Lampkin is destined to make an impact on college football at Iowa State. The Nebraska Cornhuskers football staff missed badly on this homegrown talent.

Next: Nebraska HS Track and Field State Meet Championships Notes: Part 2 Returning State Meet Track and Field Stars and Ones to Watch
Note: National event rankings are based on the most current athletic.net data available at the time of this posting .