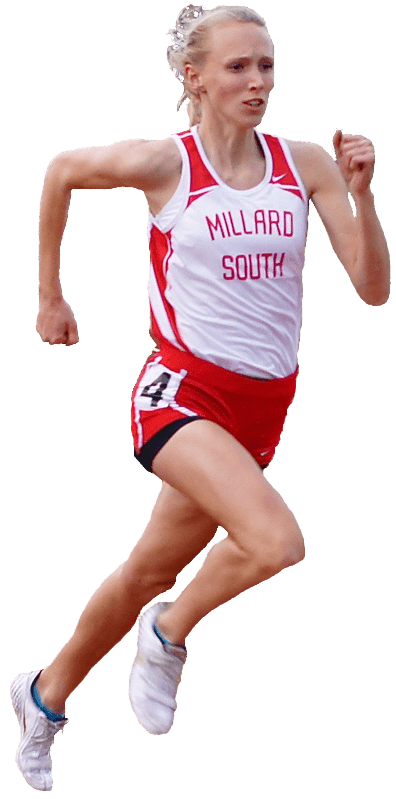 Clara Nichols Comes Up Big in 2011
Nebraska high school state track meet best of 200 meter finals and top boys and girls 400 relays featuring: Clara Nichols, Blake Micek, Michael Wickham, Kenzo Cotton, Omaha North girls and Central boys 400 relays.
At left is Nebraska state girls 400 meter record holder Clara Nichols. The Millard South junior won three gold Medals and finished 2nd in the Class A 100m at the 2011 Nebraska State Track and Field Meet.
Her 55.05 400 meter finals performance established a new state record and her gold medal winning time of 24.80 in the 200 meter finals was a PR for Nichols as well as her 100 meter runner-up finish (12.15). She capped off her outstanding meet by anchoring the Patriots 1600 relay team to a season's best 3:58.28 gold medal performance.
As a tribute to Clara's extraordinary dedication and commitment to being the very best she can be, I threw in a little something extra in this video to pay homage to her. After all she has done something no other Nebraska high school girl has done and she did it in what in my opinion is the most intensely gruelling and athletically demanding event in track—the 400 meter. Moreover, Clara Nichols has one of the strongest wills and a desire for being the best that I've ever seen in a young athlete, girl or boy.

Photo is courtesy of Woitzel Photography.
Best of 200 Meter and 400 Relays Video
httpvh://www.youtube.com/watch?v=8a6uUa0Rcf8