Favorable gusty winds and semi-pleasant temperatures helped to produced several quality performances at the 2013 Millard South Track and Field Invitational.
The Papio boys 4X100 team popped the highlight of the meet with an early-season meet record 42-flat. That scorch-the-earth effort ranks 7th on the all-time charts. Lucas Hostetler, Jalen Allison, Nick Bartels and Kenzo Cotton look very much like they're on their way to breaking the all-time best 4X100 time (41.74) set by Omaha Central in 2007. However, as good as those Papio 400m relay boys looked, it was freshman Chloe Akin-Otiko that turned in the best individual performance in my opinion After all, the girl is only a freshman and she turned in the Nebraska girls season's best 100 (12.36), won the long jump (17'6″) and just missed winning the 200m, being out leaned by Central's Desiree Sanders' 25.10. Sanders, a junior, is another good-looking sprinter who has been getting the best of her talented teammate Chelsea Baker. I don't know what's going on with Chelsa this year—but she is not looking good. Hopefully my early-season pick to win the 100m all-class gold will get things together soon. Because Akin-Otiko is bringing heat!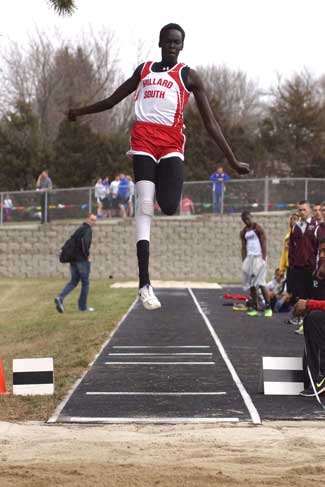 Rachel Bramhall swept the girls hurdles, turning in a season's best 46.06 in the 300. The Papio South senior is nibbling her way towards that 300m hurdle state record.
A healthy and focused Akin-Otiko has the tools to notch some all-time marks in the sprints and maybe even a state record or two before her career is over. She possesses some of the best form I've seen from a Nebraska freshman girl sprinter. And form is where greatness starts.
Papio's Nick Bartles hurdled his way to a state leading 14.7 110m hurdle time. Man, was he was he impressive! I wasn't expecting to see the nice form plus the speed from him. I think the kid can definitely get into the low 14s before the season ends.
Fremont's Danny Aldaba looked fit sweeping the 3200 (9:31.9) and 1600 (4:23.66) meter runs. How much further up the all-time charts he moves in both races will be up to him. Nothing against the rest of the boys distance runners but in my opinion Aldaba is the cream of the crop. If he gets that Zen (mental groove) anything is possible for him.
Millard West's Skyler Monaghan is going to be a contender for the 400m all-class gold. The junior Mustang football star broke the magical 50 second barrier (49.97) to win the event.
Kenzo Cotton, what can I say? "Cotton is King!" Kenzo's frame has filled out quite nicely but will this be his year to break the 21 second barrier in the 200 and/or to set a new Nebraska state record in the 100m? Hmm, will football dreams get in the way? I hope not because I'd really like to see Kenzo bust that 21-second barrier. Right now he is coasting to 10.7 100s and sub-22 200s. We shall see what he brings when the weather heat up.
Below, check out Kenzo, Cotton, Rachel Bramhall, Nick Bartles, Chloe Akin-Otiko and the 7th all-time fastest boys 4X100—these boys can handle the stick.
Relate Links