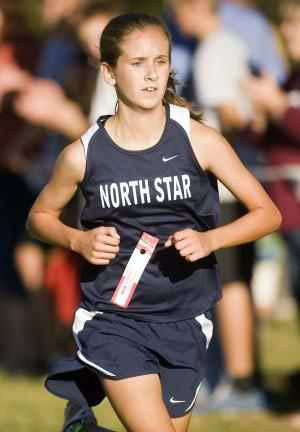 I count myself fortunate to have been on hand during the emergence of two of Nebraska's most dominate high school girl track and field performers: LaQue Moen-Davis and Clara Nichols. Those two extraordinary athletes along with several others like Aubree Worden, Breunna McCarty, Brianna McGhee and Morgan Woitzel have all moved on to Division 1 College programs, Their departures, over the past couple of years, leave a huge void in Nebraska high school girls track—an emptiness that will  be hard to fill.
So as a new era dawns—who will become the next Nebraska high school girl track star(s) to break state records and/or to consistently turn in high ranking all-time best chart performances? Let's see.
Most Likely Girl to Set a State Record in 2013
My No.1 candidate to set a new state record in 2013 is Papillion-La Vista South senior Rachel Bramhall. The Titan hurdler had an impressive junior campaign that saw her steadily drop her 300 meter hurdle times as the season progressed. Bramhall won the state meet all-class gold medal in the event last season with a 43.58 PR—a time that ranks 4th on the Nebraska Track and Field All-Time Best Chart.
Millard North's Kianni Elahi ran the all-time fastest 300 meter hurdle race in 2007, hitting the finish line at 43.03. Slightly more than a half a second separates Rachel Bramhall from becoming the fastest girl 300 meter hurdler in the history of Nebraska high school track. I have seen Bramhall run and she's every bit as efficient and tenacious over the hurdles as I remember Elahi being. If Rachel stays healthy and the weather cooperates—she will break Elahi's record.
Elahi went on to become an All-American women's 400 meter hurdler at Iowa State. Bramhall possesses the potential to garner similar accolades at the college level.
Most Likely to Become the New Face of Nebraska Girls High School Track and Field
Bramahall may be the next girl to set a Nebraska state record, but it is Lincoln North Star's Jeralyn Poe who is in the best position, right now, to become the new face of Nebraska girls high school track and field.  With three seasons still left to wow, Poe has already accomplished much.
Poe won the Nebraska state meet Class A 4000 meter cross country title as a freshman in 2011 and she repeated the feat this past season (2012). She was selected the Gatorade Nebraska Girls Cross Country Runner of the Year for the 2011/12 and 2012/2013 seasons. Her 11:18.52 time in the 3200 meter at the 2012 state meet was good enough for the freshman to take second place. The rising star is my early season pick to claim an all-class gold medal in the 3200 meter at the 2013 state meet.
Other Girls Track and Field Athletes to Watch in 2013
Kalyn Brannagan, Sr. Shelton: An extraordinary start to her high school career saw the Class C hurdler capture all-class gold in the 300 meter as a freshman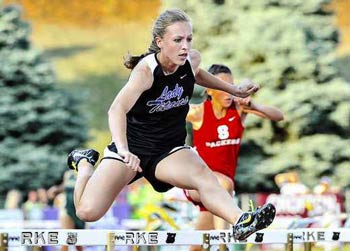 and then again as a sophomore. But the above mentioned Bramhall captured the 300 meter title in 2012. Bramhall is my early-season pick to repeat as 300 meter all-class gold champion in 2013, however, Brannagan must not be overlooked! Brannagan, who is more smooth than tenacious at attacking the hurdles, is also a Division 1 prospect with the potential to eclipse Elahi's 300 meter hurdle all-time best mark. If both girls stay healthy and continue to develop this season the 300 meter hurdles will be "The Girls Event to Watch at the 2013 state meet." It's just unfortunate for the fans that the two will not get to run against one another, since they are in different classes.
Tierra Williams, Sr., Auburn:  Williams' 19'2.50" long jumps in 2011 and 2012 tie her for 10Th place on the all-time charts. Also a strong triple jumper, Williams has already come out strong in 2013 with a state-leading 38'6" triple jump. That's only a couple inches off of from placing her on the all-time charts. The question for Williams is: can she finally have a strong performance at a state meet? A lackluster outing at the 2012 state meet—the first year she didn't have to out duel Class A's Moen-Davis—prevented her from not only claiming the all-class gold in the long jump; it kept her from even winning the Class B title.
Allexis Menghini, Sr., North Platte: Her 2012 12'01" vault currently ranks 7th on the all-time best chart. Will the senior continue to move up on the charts in 2013?  It's always difficult to predict an outcome in this precarious event.
Chelsea Baker, Sr., Omaha Central: Over the past couple of seasons the explosive little Eagle sprinter has shown me enough to consider her as having a legitimate shot at running a sub-12-second 100 meter and to even challenge the 11.90  state meet record set by Omaha North's Bruenna McCarty in 2011. Baker finished 3rd in the event as a sophomore and placed second last season—she ran a 12.04 PR in the prelims. If Baker has improved—she is my early favorite to claim the title of Nebraska's fastest girl.
Audrey Malone, Jr, Filmore Central: The 14.50 100 meter hurdle time she ran as a freshman, back in 2011, ranks 9th on the all-time charts. She was so-so in 2012, so will she recover from her sophomore slump to move herself up in the charts in 2013?
Tiani Reeves, So., Gothenburg: Won state meet Class B long jump as a freshman (18'07.50").
Sidney Hirsch, Sr., Millard West: The long distance runner has put together a strong high school career, starting in her freshman year when she earned a second place finish in the2010 state meet Class A 1600 meter. She went on to win the state meet Class A 3200 meter as a sophomore in 2011. But Hirsch fell short of capturing either one of those Class A titles in her 2012 junior season. Hirsch will be hard pressed to claim the 3200 meter all-class title this year against the likes of the up and coming Poe.
Megan Sughroue, So., Kearney: As a freshman at the 2012 state meet she placed third in the Class A 1600 meter with a time of 5:05.83.
Lanie Snyder, Jr., Millard West: Won state Meet Class A triple jump 38' 6.75".
Toni Tupper, Jr., Lincoln Northeast: Won all class gold in the shot put with a throw of 43'09".
Adelay Meyer, Jr., Fremont:  Won the state meet Class A high Jump (5'4").
Katie Sorensen, So., Bellevue West: Placed 3rd in the state meet Class A high jump (5'4").
Olivia Baker, Sr., Omaha Westside: Placed 3rd in the state meet Class A triple jump (37'.75").
As always—expect new stars to emerge plus a few surprises along the way.
Next up later this week,  The 2013 Nebraska High School Boys Track and Field Preview
Related Links