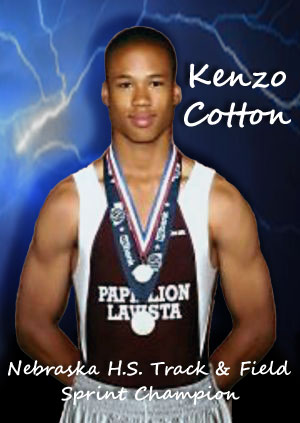 On Thursday, Papillion-La Vista's Kenzo Cotton rode the wind to a 10.40 seconds time in the 100 meter, landing a  4th place spot on the Nebraska track & field all-time best chart.
Cotton, like practically all the other 100m all-time chart members before him, benefited from a hand-held time and a stiff breeze to his back.  However, the difference this time around is that this—sophomore—sprinter has much more to show. Yesterday was only a glimpse of what lies ahead for Kenzo Cotton.
Last season as a freshman, Cotton had arguably the state's worst start in the 100m and 200m, yet he still managed to win the 200m gold at state with a 21.77 clock and he placed third in the Class A 100m at 10.97.
According to comments attributed to Kenzo and his coach (Joe Pilakowski) that appeared in Friday's Omaha World-Herald (click to read article), Cotton spent a lot of time, over the past week, getting his start down. It obviously helped.
My bet is that once Kenzo Cotton finds his start groove and he becomes consistent, we will see him posting legit sub 10.6 times in the 100m and at least into the low 21 second times in the 200m.  Really, I think if Kenzo stays healthy he will run sub 21 times before his high school career is over.
If you think Kenzo will be hard for anyone to catch up to for the next couple of years, his little brother, Kurtis, may be even better. Kurtis Cotton won the 2011 USATF National Junior Olympics midget boys (ages 11-12) 100m and 200m. Kurtis blew away the nation's best in both events with times of 11.71 and 23.66 respectively.
Week's Other Notables
Tess Merrill, Sr., Grand Island Northwest—Congratulation for setting a new PR of 11'9″ in pole vault. Tess now stands all alone at No. 9th on the all-time chart.
Stacy Keely, Jr., Omaha Northwest—Keep tabs on this 6'8" high jumper. He leads the state at 6'8.25". That's a quarter-inch better than Bellevue West freshman Malik Hluchoweckyj. At this rate it appears that both of these guys should clear 7'0" before the end of their high school careers.
Mo Hamden, Jr. Lincoln North Star—His 4:16.19 1600m meet record win at Friday's Dick Jones Invite was merely 9 hundredths of a second from making the all-time chart. Hamden out dueled Nebraska recruit Jacob Olson of Kearney to claim the victory. The 2011 1600m state gold medalist reigns among Nebraska's top mid-distance runners in the 800, 1600.  and 3200. Impressive! And he still has the rest of this season and all of next year to lay his claim to being remembered among the best ever Nebraska high school distance runners.
Central Girls 4X100—It's been awhile since any team has challenged the Omaha North Viking girls supremecy in this event, but the Eagle team of Chelsea Baker, Maddie Buller, Syranda Poole and Desiree Sanders burned the laces off the Viking girls at Dick Jones with state-leading and near all-time chart time of 48.77.
Related Links
Smoother Cotton Quick in the 100
Active Athlete Members on Nebraska Track & Field All-Time Best Chart