Let the Biggs Time Roll!
Deverell Biggs, one of Nebraska's most dynamic and athletically gifted high school basketball players since the turn of the century, has committed to play for the Nebraska Cornhuskers.
I'm now officially a Nebraska Cornhusker basketball fan: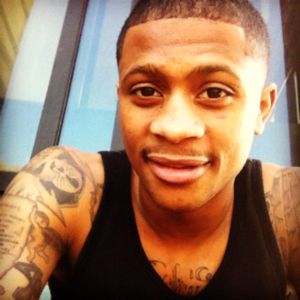 I never thought I'd say that, considering my Ohio State ties, but for me Biggs is just one of those magnetic athletes that make me want to root for him and his team's success.
High School Basketball and Track & Field Standout
During his brilliant high school career, the former Omaha Central guard helped to lead the Eagles to the 2010 Class A state championship: he was also a member of Central's 2007 championship team as a freshman. In addition, Biggs won two Nebraska state track and field meet all-class gold medals in the high jump.
Biggs—standing only 6-feet-tall—cleared the bar at 7-feet in his senior year at the 2010 state meet.  The height earned Biggs a spot on the Nebraska high school all-time chart. It also marked only the 5th time in state meet history that the height of 7-feet or better had been cleared. Biggs' jump of 7-feet ties three others for the second best high jump mark at a Nebraska state track and field meet: Kyle Odvody, Wahoo, 2000; Chris Murrell, Grand Island, 1989; James Blackledge, Millard North, 1984. Only Papillion-La Vista's Randall Carter's jump of 7'4" at the 2007 meet has been higher.
Accolades Continue to Mount for Biggs at JUCO Level
Grades prevented the 2010 Nebraska Boys Basketball Player of the Year from entertaining any D-1 offers so he took his talent and dreams to Western Texas Community College for one season where his performance during the 2010-2011 season earned him an invitation to the prestigious Mullen Top 100 JUCO Showcase Camp held last summer.
Biggs then transferred to Seward County Kansas Community College where he averaged 14.8 points and 3.3 steals in 2011-2012, leading the team to a 31-7 record and an appearance in the national NJCAA semifinal game.
His stellar season for Seward County earned Biggs the 2012 Jayhawk Conference West Division Player of the Year honors and he was recently selected a First Team NJCAA All-American.
He becomes NU's first Nebraska high school player to be awarded a basketball scholarship since 2002.
Biggs may not be a McDonald's All-American or considered to be a 5 Star recruit—yet; however, he is perhaps the most significant player the Husker basketball program has landed in quite some time.
Make no mistake about it—Deverell Biggs is a HUGE haul for Nebraska basketball and new head coach Tim Miles. At this point in time Biggs is the perfect cornerstone to build a program upon.  More importantly, his affinity to Nebraska basketball fans and his vibrant play making ability will help put more fans in the seats.
Maybe NU can become a basketball school, after all.
I'm rooting for it.
Go Huskers! Oh my, did I just say that?