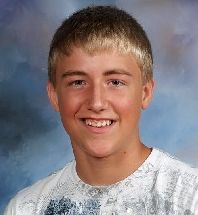 On Saturday, Cozad Haymakers freshman Jake Paulsen clocked the fastest 100 meter of the 2011 Nebraska high school track and field season, by blazing to the finish line in 10.60 seconds. Paulsen also took home individual gold in the 200 meter (21.87) and high jump (6-1). Both sprint events were reported as automatic times, according to athletic.net postings.
Incredibly, as of this date, the boys season's best 100m and 200m times are held by freshmen Jake Paulsen and Kenzo Cotton (Papillion-La Vista) respectively. This is no slight to the upperclassmen either. The fact is that these freshmen are simply freakishly talented for their ages.
These two have already demonstrated that they are physically capable, but we shall soon find out how mentally strong they are when state meet time rolls around.
Paulsen's 100m eclipsed Boys Towns' Nehemiah Wilkins' 10.70 100m that he ran on Friday. However, Wilkins had backup because he also ran an outstanding 38.42 300m IMH to reclaim the season's best spot in that event to go along with his top in the state 110m HH time (14.30).
Other notable performances this week: Omaha North's Girls 400 relay team (Breunna McCarty, Alexa Whitehall, Nakita Brewer and Brianna McGhee) bolted to the second fastest time in history (47.11). The boys state leader in the discus, Brady Rutt (Hastings) got off a monster 186-8 throw; Kearney's Katie Smith added an inch to her state lead in the girls high jump by leaping 5-8—one more inch for Katie and she makes the all-time charts; Benson's Mach Dojiok's 1:54.81 800m also moved him closer to minimum chart standard (1:53.40) and pole vaulter Christian Sanderfer (Lincoln Southwest) cleared 15-6—it takes a vault of 15-8 or better to make the all-time chart .
Related Links: