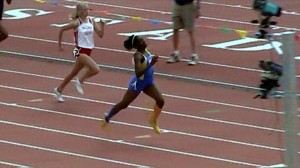 2011 Omaha Metro Conference Track and Field Championships

Location: Harry A. Burke High School 12200 Burke Blvd Omaha, NE.
Date: May 3-4.
Start Time: 3:30 p.m.
Omaha, NE Extended Weather Forecast:
Tuesday (May 3) Sunny, High 63-66
Wednesday (May 4) Sunny, High 68-72.
Pictured: Omaha North's Brianna McGhee (right) beats Clara Nichols (Millard South) to the finish line at last year's state meet 200 meter Class A final.
MHN's
Ten Must See Events
2011 Omaha Metro Conference Track & Field Championships
1.   Boys 200 Meter—Freshman

Kenzo Cotton

(Papillion-LaVista) vs. the field: Can a freshman boy win a Metro Conference sprint title? I don't know when the last time it occurred or even if it has ever happened. Cotton enters the Metro with the State of Nebraska's best time of the season in the event (21.80). However, it won't be easy for the young lad to pull this one off. You see, Cotton—none of your competitors are going to like the idea of losing a Metro title to a—FRESHMAN! In fact I here a tale that there is already a $10,000 bounty out for Cotton: payable to anyone who beats him.  Therefore, Cotton better be ready for every last one of those upperclassmen to be bringing their best stuff to this showdown. If Central's

Ted Lampkin

is entered—this thing could turn into a real barnburner. Also, watch out for

Chris Svoboda

(Papillion-LaVista) and

Devin Barfield

(Central).

2.
Girls 100 Meter HH—
LaQue Moen-Davis

(Omaha North) vs.

Brianna McGhee
(Omaha North):
Ranked 2nd and 3rd respectively on the all-time charts, this is a showdown that could produce a new No. 1 standard. McGhee is the only athlete to ever beat Moen-Davis in this event, and she has accomplished the feat twice, including their last showdown at the Harold Scott Invitational on April 21st.

3. Girls 200 Meter—
Brianna McGhee (Omaha North) vs.

Clara Nichols

(Millard South):
At last year's state meet, McGhee barely missed making it onto the all-time charts (24.7), coming in at 24.80 to win all-class gold, while Nichols placed 2nd with a time of 25.05. However, coming into this meet Nichols has posted the best 200m time of the season.  This is another event with all-time chart potential.

4. Boys 400 Meter—

Terry Grigsby

(North);

Dennis Barfield

(Central) and

Nash Beaudin

(Millard West) have all posted sub-50-second 400's this season, while Millard South's

Elijah Tostenson

has been hanging  close to the mark. We should see a good race here and possibly a season's best time or at the very least some PRs.

5.   Boys Shot Put—

Drew Staskiewicz

, (Millard North) vs.

Dylan Utter

, (Papillion-La Vista). Both throwers have been hovering around the mid 50s. So it will come down to which one brings his A-game to the pit on Tuesday. Staskiewicz is headed to Missouri on a track scholarship and Utter is a 6-3, 300lbs OL/DL football prospect in the class of 2012.

6. Girls 400 Meter—Clara Nichols vs. the field: From this point forward, anytime Nichols takes the field in this event there is a potential for an all-time best chart-topping performance. If teammate Morgan Woitzel has recovered from her injury things could get interesting here.

7. Boys 100 Meter—Ted Lampkin (Central) vs. Kenzo Cotton: Unless someone lights a fire under the rear-end of one of the other contestants, Lampkin and Cotton are the only Metro boys capable of winning this event. Lampkin has notched the better times of the season—but not by much. This boys 100m should produce a great finish and good times.

8. Boys Long Jump—Ted Lampkin vs.

Lexi Williams

(Papillion-La Vista South): Thus far in the season, both are jumping in the mid to upper 22 range. Last year Lampkin's 24- 4 3/4 jump earned him a 5th place spot on the all-time chart. Williams is only a junior so he has plenty of time left to make more impressive jumps. But wouldn't a victory over Lampkin in the Metro Championships be a mighty fine thing to carry around in his back pocket?

9.
Girls 100 Meter—

Breunna McCarty

(Omaha North) vs. Clara Nichols: McCarty has the faster season time at 12.10 but Nichols is not far behind and she has a track record (no pun intended) of performing her best in big races. Maybe even more of an indication of how close this race may be is that Nichols came is 2nd (12.17) and McCarty 3rd (12.23) at the 2010 Class A state finals. This one could produce the best time of the season for whoever wins.

10. All-Time Chart Performance Watch: In addition to the events mentioned above, here are some more events that could produce top ten all-time chart performances:
Central Boys 400 Meter Relay—already posted 9th best time this year and they are looking to break the all-time record before the season is over.
Omaha North Girls 400 Meter Relay

—

the 2011 Viking girls, like their recent predecessors, look poised to enter the charts at any time.

Boys Triple Jump—To enter the all-time triple jump top ten chart Ted Lampkin needs to find only a little less than 2 inches to add to his PR of 48-2 3/4. A  hop, skip and jump of 48-4 1/4 or longer gets him in!
Boys 800 Meter—Mach Dojiok

(Benson)

missed the all-time charts by less than 2 seconds when he ran a 1:55.37 at the Benson Invite. A big meet and a good weather forecast could give him incentive to make a run for history. Unfortunately, Dojiok will more than likely have to run against time unless Millard South's

Elijah Tostenson

provides a push.
Girls Discus—

Michelle Wallerstedt

(Burke):

Will this be the meet that the Bulldogs junior gets off a throw good enough to make it onto the all-time charts?
LaQue Moen-Davis—whenever she participates in any event there is always the likelihood that we will see something that has never been done in Nebraska girls high school track and field. Besides the 100 HH, Moen-Davis is likely to be entered in the long jump and triple jump (holds No.1 all-time marks in both events) and the high jump.