Freshman Boy Sprinter Kenzo Cotton Dashes to Top of Charts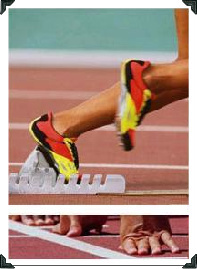 Postings on Athletic.net show that on April 12, 2011, Omaha Burke senior Dylan Scoggins ran a  36.1 300 intermediate hurdle time at the Burke Junior Varsity Meet.
Now I'm not saying it ain't so—but…  That time would obliterate the all-time best of 37.29 set in 2006 by Aaron Brandt of Wahoo Neumann. The fact that he supposedly ran the time at a JV meet is also a troubling element to this story. If anyone can provide more info on this time it would be greatly appreciated.
If the hurdle heights and race distance were set correctly and the time recorded is not a typo—"Congratulations to Dylan Scoggins on a remarkable time."
Cotton Comes to High School—Kenzo Cotton that is.
It's not often that a freshman boy makes an impact at the top of the field in the sprint races, but a healthy Kenzo Cotton will certainly make his presence know at the state meet this year for the Papillion La Vista's track team.
So get used to hearing and seeing his name: "Kenzo Cotton."
Cotton comes to the high school rubber with some serious elite level Junior Olympic credentials and the Bellevue Breeze track star has even broken numerous state and regional records along the way. Last July, Cotton broke the boys youth division (13-14 year-old) record at the Regional Junior Olympics with an electronic time of 11.20. On Thursday, Cotton ran a hand-held time of 10.90 to win the 100 and a season's best time of 21.80 to win the 200 at the Papillion-La Vista South Titan Invite.
Related Link
2011 Nebraska HS Track and Field Leaders