Class of 2012 Western Nebraska QB Puts up Historic Numbers in 2010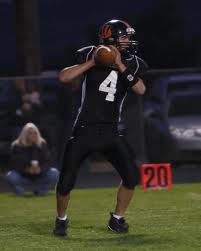 Count them— five—that's the number of Nebraska high school football all-class records broken in 2010 by Bayard High QB

Brandon Stuart

:
Brandon Stuart
Nebraska HS Football All-Class Records
Most Completions in Season: 209
Most Passing Yard Avg. Per Game: 268.6
Most Yards Passing Single-Game: 448
Most Completions Single-Game: 38
Most Passing TDs Single-Game: 7
Season Stats
2,417 passing yards
28
TD passes

64% completion ratio
357 rushing yards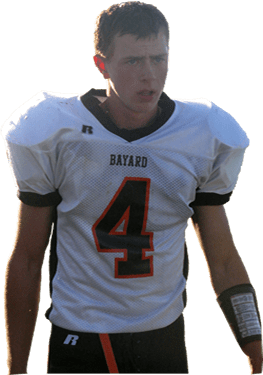 The 6-foot-1-inch, 180-pounder is one of the more polished and complete Nebraska high school quarterbacks I've seen take the field: Displaying
good pocket presence, above average throwing mechanics, a quick-release and good arm strength, the kid can throw the ball on the rope to anywhere on the field, while setting up in the pocket or moving to his left or right. Plus when need be, he is a quick-footed elusive runner.
I was sold on Stuart for sure once I saw him throw a perfect ball nearly 55 yards in the air—off his back foot—from the right hash mark to a well-covered receiver on a go route down the left hash.
So Where Has Brandon Stuart Been Hiding?

Well,  for us city folk: way, way, way out West, tucked inside the small Nebraska panhandle town of Bayard, Nebraska (population 1, 083).
Under the direction of head football coach the Class C2 Bayard Tigers made it to the state playoffs in 2010 for the first time since 1993. Also, thanks in large part to Stuart's arm and some pretty good receivers too, I might add. And I'm sure Stuart would shout kudos to his big linemen.

So you see, it's easy for a high school prospect to get lost in the shuffle— or easily overlooked—when playing for a non-traditional powerhouse Class C school, located in a very small town way out in western Nebraska.
Yet despite the disadvantages, the media and coaches could not overlook Stuart's on-the-field play, He was awarded Regional Player of the Year, Conference MVP honors and selected Class C2 First Team All-State by the Lincoln Journal Star.
What's Next for Brandon?
Coach Willey believes Stuart has D-1 potential (I concur wholeheartedly) and he is helping to prepare him for the rigors of the upcoming spring
and summer camps as well as for a productive senior season. Wiley says Stuart has been getting some good looks from some D-1AA and D-2 programs, but not any serious attention from the D-1's—yet.
Hopefully, some D-1 schools will soon start taking a good long look at Brandon Stuart, because this young lad is certainly worthy of some big boy college attention.
Stuart is a solid lock to be included in MHN's Class of 2012 Preseason Top 25 Nebraska High School Football Prospects ranking to be released sometime in early July, after the NCAA Evaluation Period and college summer camp visits are finished. How high he will initially be listed depends a lot on what happens on the recruiting trail between now and then.
Below, check out Nebraska Record-Breaking QB Brandon Stuart's Junior Season Highlight Video:
httpvh://www.youtube.com/watch?v=2Yp9NfbtWcE