Huge Day for Huskers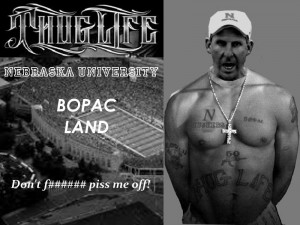 My buddy and myHitNews affiliate Darin Allen makes bet on outcome of the Huskers first year in the Big Ten, plus he weighs in on Bo Pelini Tirade against Taylor Martinez.
Link: Nebraska Cornhuskers' "Style" Football Won't Make It in Big Ten
Nebraska vs. Colorado
Today's Nebraska vs. Colorado may be one of the most important games in NU history. A lot is riding on the line here with none more important than a Husker berth to the 2010 Big 12 Conference Championship Game. Yet with the taste of last Saturday's loss to Texas A&M and all the carnage that ensued still lingering on the tongue, the outcome of this game is huge.  At this point a Husker loss would be devastating on many fronts. From recruiting to the football program's momentum as they move towards  Big Ten play next season—a lot is at stake.
Prediction: None!  The Buffaloes have a lot at stake too. A victory today and they qualify for a bowl game and their chances only improve with Taylor Martinez and Niles Paul sitting this one out and Roy Helu Jr. banged up (calf). If the Blackshirts can play like they have all season and someone on the offense steps up to the plate to deliver a big game the Huskers will be headed to Arlington, Texas next week. Though I think the Huskers can pull this one out there is simply too much other background noise form last Saturday still in the air. Will the Huskers be focused after the Bo Pelini outburst last weekend or will all that turmoil cause them misteps  throughout the game?
I can't wait to find out.