Poll: The Best High School Football Team in Nebraska
Vote Below.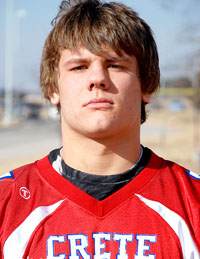 If I'm wondering whether or not the Crete Cardinals could beat Millard North or Millard South in a football game then you know the next logical thought: Who is the best high school football team in the Nebraska for 2010? The Crete Cardinals' 34-0 annihilation of Elkhorn in tonight's Class B State Championship Game certainly blew mega amounts of fuel into this burning question.
The Cardinals are solid all the way around featuring great O and D lines anchored by Husker recruit Ryne Reeves, Chase Sherman, Johnny Avelar, Bernie Rodriguez and John Hoesche, along with very good skill players in Derek McGinnis (QB), Brock Sherman (RB/LB) Ben Muff (WR/DB) and Aaron Paulson (RB). Combine all that talent with maestro head coach Chuck McGinins and his staff and it's no wonder that the Cardinals finished the 2010 campaign 13-0 and holding their fourth Class B championship trophy since 2000.
The NET Sports television announcers that covered the game included former Husker football stars Adrian Fiala, Matt Davidson and "Mr. Everywhere" sports radio personality Kevin Kugler. They all at one point or another during the broadcast pondered aloud the question of whether or not they were witnessing the best high school football team in the state—but without really addressing it. However, the crew did appear to be united in their opinion that this Crete bunch was a very impressive team.
So let's not beat around the bush on this. Let's put the question on the floor. Class A State Champ vs. Class B State Champ: Millard North vs. Crete, which team would win? Which team is the best high school football team in Nebraska for 2010?
[poll id="30″]