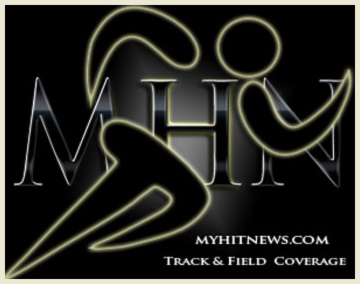 On Thursday (July 26), Nebraska high school 200 meter state record holder Kenzo Cotton ran a 22.04 200 meter semifinal time to lead all intermediate boys going into Saturday's finals  at the USATF National Junior Olympic Track & Field Championships, contested at Morgan State University in Baltimore, Maryland.
On Wednesday, Kenzo posted the second fastest 100 meter qualifying time (10.89) time to win his preliminary heat and qualify for the semifinal round to be held on Friday (update: he ran a 10.74 to win heat. 2nd fastest time going into finals). The IB 100 meter finals are scheduled for the last day of the 2012 National Track & Field Junior Olympics, on Sunday.
Oklahoma state recruit Clara Nichols, also participating at the event in the young women division, ran a 2:15.89 800 meter to qualify for Saturday's finals. Nichols posted the second fastest qualifying time, behind class of 2013 prospect Tametris Morrison's 2:13.69. Morrison hails from Southeast Raleigh H.S., Raleigh, NC.  That YW 800 meter final looks like it's one to watch.