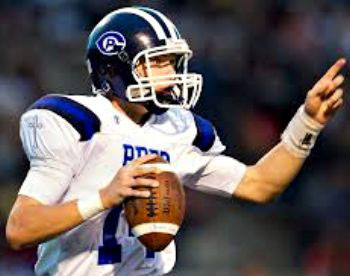 Creighton Prep's Easton Stick makes six: That is the number of Nebraska high school football prospects currently holding D-1A offers.  The strong-armed pro-style QB picked up his first D- 1A offer from Mid-American Conference (MAC) member The University of Akron. The other Nebraskans holding D-1 offers are: D.J. Foster, OG, Lincoln Southeast,  Luke Gifford, ATH, Lincoln Southeast; Harrison Phillips, DE, Millard West; Mick Stoltenberg, DE, Gretna and last—but not least—Kenzo Cotton, CB, Papillion-La Vista.
Cotton recently picked up his third known D-1A offer from the Big Ten's Wisconsin. Of course, Bo Pelini still has not made an offer to Cotton. At this stage in the game, if Pelini does make and offer—I sure hope Kenzo goes somewhere else!  Anywhere, please.  Because while Bo Pelini is still trying to figure out how he got outcoached by the Badgers in the 2012 Big Ten Championship Game blowout (31-70), the Wisconsin coaches are busily out recruiting him in his own damn state!
In my opinion, if Kenzo Cotton decides to play college football, he will become at the very minimum an all-conference-type player at the college level, but most likely much more than that. 
How in the hell does an in-state Big Ten coach not make the first conference offer to a kid who is physically a 6-foot-2-inch, bona fide purebred stud who smashed the Nebraska high school state records in the 100 and 200 meter dashes.  There is no excuse for Pelini and his staff to let this happen.  
Bo Pelini on Way Out, in  Lincoln, Nebraska
Maybe the reason Bo has not offered Kenzo is because there are already too many Cottons on the team. You know, with all Barney's boys and all. Just darn too many of them there Cottons!. Hmm.
Did you see the 2013 NFL draft results for the Huskers? Ha, that is Pelini's five year plan at work. Those were all his recruits.
How long?  Not long: That is the answer to how much longer Bo Pelini will be around Lincoln.  I'll have much more to say on the subject in Part II of. Bo Pelini Unleashed: Totting up the Head Football Coach's Five Years at Nebraska.
Class of 2014  Nebraska High School Football Prospect Board
Submit class of 2014 prospect names to
admin@myhitnews.com
. Please include height, weight, position, school and any athletic performance measures
.

Last updated June 12, 2013:
Nebraska High School Football

Offense & Defense


Name

School

POS

HT, WT

Bench, Squat

40

Shuttle

Vertical
Broad Jump

ESPN

Grade


Rivals

Stars


D.J. Foster
Lincoln Southeast 

2012 1st Team All-Nebraska & Super-State 2011 First Team Super-State 

Offers:

 

Florida, Georgia, UCLA, Iowa, Iowa State, Missouri, Nebraska, Vanderbilt, Wake Forest, Ohio

OG/DL

6-3, 327
(295, 425)
5.4
NR
25″

4 Star
81
3 Star
5.7


National




POS Rank OG 




14

Luke Gifford
Lincoln Southeast


Offers Nebraska (committed) Iowa State, Ohio, Toledo, North Dakota

ATH

6-3, 195
NR
NR
NR 

35″

NA

3 Star
5.6


National




 POS Rank ATH




37

Harrison Phillips
Millard West


Offers: Kansas State, Ohio, Florida Atlantic, Northern Illinois, Army, Illinois State,  Yale, Lehigh, South Dakota, South Dakota State, North Dakota, North Dakota State, Wisconsin, Pennsylvania, Princeton, Western Illinois

DE

6-4, 246




(365, NR)




4.9




4.26




32″

NA

3 Star   
5.8


National


POS Rank
DE 


30

Kenzo Cotton
Papillion-La Vista
100m and 200m state record holder (10.41 and 21.31 respectively); owns state's fastest F.A.T. 100m (10.41) and first freshman boy to win 200m all-class state meet gold.

Offers: Wisconsin, Kansas State, Ohio

 ATH

6-2, 190 (265, 375)
4.4
NR
34″

NA 

 NA

Mick Stoltenberg
Gretna 

Offers: Army, Ohio, Tulsa,  Pennsylvania, North Dakota, South Dakota State, South Dakota, Northern Colorado, 

DE

6-5, 250
(315, 395)
4.9
NR
38″
.

NA

3 Star 

5.7

National
POS Rank DE
27

Ross Drwal
Millard West


Offers: North Dakota, South Dakota State, South Dakota, Lehigh

DB

6-1, 195
(315, 465)
4.52
4.1
32″

NA

NA

Easton Stick
Omaha Creighton Prep  

2012 2nd Team All-Nebraska

Offers: Akron, South Dakota

QB

6-2, 198
NR
NR
4.2
34″

Invited to U.S. Army Combine

2 Star 5.2

Austin Rose
Lincoln North Star


2012 2nd Team Super-State


1st Team All-City


Offers: Campbell

RB

6-0, 220
(290, 480)
4.6
4.1
33″

NA

2 Star
5.4

Blake Emsick
Omaha Burke


Offers: North Dakota

LB

6-1, 205
(265, 405)
4.68
NR
31″

NA

NA

Makiah Slade
Lincoln Northeast 

DB

6-1, 198
(260, 485)
4.5
NR
39″

NA

NA

Alec Ditoro


Papillion-La Vista

2012 1st Team All-Nebraska & Super-State

QB/ATH

NA

N

A
Conner Wieck 
Millard West

DB/ATH

NR

NA

NA

Skyler Monaghan


Millard West

2012 1st Team All-Nebraska & Super-State;

2012 1st Team All-Metro


2011

Second Team All-Metro

 WR

5-10, 160


(220, 350)




4.40




4.1




31″

NA 

NA 

Tyree Peter
Omaha Benson

TE

6-5, 205
MR

NA

NA

Trey Carr


Omaha Burke

2012 1st Team All-Nebraska & Super-State

2012 1st Team All-Metro 

Offer: North Dakota, South Dakota, South Dakota State

DB 

5-11, 175
NR

NA 

3 Star
5.5

Zach Reeg




Elkhorn South

QB 

6-21/2, 190


(195, NR)




4.6




NR

NA 

NA

Clay Fisher


Millard North

2012 1st Team All-Nebraska & Super State 

2012 1st Team All-Metro

DB/SF

6-2, 202 (315, 405)
4.58
NR
33″

NA

NA

Jake Paulsen


Cozad 

2012 Class B 100 meter and high Jump champion. Rushed for over 1,300 yards in 2011.

 RB

6-0, 170


(225, 275)




4.46

NA

NA 

DeQuan Bell




Omaha Roncalli 

2011 1st Team

 All-Omaha Area

 RB

5-9, 150




NR

NA 

NA 

Lane Yates


Omaha  Westside

2012 2nd Team All-Nebraska

2012 1st Team All-Metro

 RB

5-9, 180

NA 

NA 

Joshua

Coyle


West Holt

2012 Class C2 1st Team All-State

Rushed for 1,884 yards in 2012.

1st Team All-Conference, Honorable Mention All-State. Rushed for 1,729 in 2011.




RB/LB 

5-11, 195 (230, 385)
4.58
4.23
30.5″

NA 

NA 

Tom Young
Omaha Westside

2012 2nd Team All-Metro

OL 

6-3, 275
NR

 NA

NA 

Nick McEwin
Elkhorn South

LB 

6-0, 205
(365, 500)
4.95
4.15
27.3″
99″

NA 

NA 

Joshua Thielen


Blair 
 

OL/DL 

 6-3, 235
(235, 400)
NR
NR
30″
108″

NA 

NA 

R.J. Urzendowski




Creighton Prep

 

2012 1st Team All-Nebraska & Super-State

2012 1st Team All-Metro


2012 Jr. Season

WR

6-0, 178
(205, 325)
4.52
4.03
36″

Invited to U.S. Army Combine

2 Star
5.3
Yohanna Shokai
Lincoln High

RB 

5-11, 175
NR

NA 

NA 

Matt Dietz
Lincoln North Star

2012 1st Team All-City

DL/OL 

6-4, 300

NA 

NA 

Harrison Phillips
Millard West

2012 1st Team All-Nebraska & Super State

2012 1st Team All-Metro

DL 

6-3, 235
NR

NA 

NA 

Drew Fitzmorris
Omaha Westside

2012 2nd Team All-Metro

DB 

5-10, 175
NR

NA 

NA 

Branden Vandervorst
Millard North

2012 2nd Team All-Metro

OL 

6-2, 265
NR

NA 

NA 

Hayden Guy
Omaha Burke

2012 2nd Team All-Nebraska 

2012 2nd Team All-Metro

K 

6-1, 165
NR

NA 

NA 

Michael Emodi
Creighton Prep

2012 2nd Team All-Metro

LB 

6-4, 210
NR

 NA

NA 

JaVaughn Perkins
Omaha North

2012 2nd Team All-Metro

LB 

5-10, 165
NR

NA 

NA 

Colton Hough
Omaha Burke

2012 2nd Team All-Metro

ATH 

6-1, 225

NA 

NA 

Anthony Vigneri
Omaha Gross

2012 First Team All-Area

RB 

6-0, 185
NR

NR 

NR 

Zach Flott
Ralston

2012 First Team All-Area




DL/OL 

6-5, 270
NR

NA 

NA 

Brady Radik
Gretna

2012 First Team All-Area

LB 

6-0, 200
NR

NA 

NA 

Nolan Siemonsma
Plattsmouth

2012 First Team All-Area

ATH 

6-3, 230
NR

NA 

NA 

Tyson Cisneros
Lincoln Pius X


2012 1st Team All-City

DL/OL 

6-2, 280
NR

NA 

NA 

Mark Hruska
Lincoln Southwest


2012 1st Team All-City

DL/OL 

6-3, 300
(325, 515)
5.4
4.8
25″

 NR

2 Star
5.3
Zach Jackson
Lincoln North Star


2012 1st Team All-City

LB 

6-0, 220
NR

NA 

NA 

Luke Gifford
Lincoln Southeast


2012 1st Team All-City

DB 

6-3, 190
NR

 NA

 NA

Makiah Slade
Lincoln Northeast


2012 1st Team All-City

DB 

6-0, 175
NR

NA 

NA 
Related Links