Volume 2 of 2013 Nebraska High School Track and Field State Meet video highlights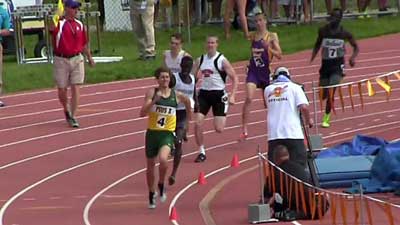 On Saturday, Lincoln Pius X senior Jacob Holtmeier blazed an epic 1:51.72 seconds 800 meter to set a new Class A state meet record.  His time ranks No. 4 on the all-time chart and it has been nearly 10 years since a Nebraska boy has—even come close—to running the event faster.
In 2004 Omaha Benson's Jack Lempke ran a 1:51.13 which ranks No.2 all-time. The No. 1 mark is 1:50.82 set in 2000 by Millard North's Brian Turner.  My question is "Where have you been Jacob?" My goodness!
The young man looked like an elite U.S. high school 800 meter runner on Saturday, and Holtmeier has the body and the form to make it look right, too. I'm telling you—this kid could have a fantastic college career if he keeps running like this.
Great job Mr. Holtmeier!
Related Links 
Volume I – Historic State Meet Sprints Video: Kenzo Cotton 10.41 100m & Freshman Chloe Akin-Otiko 200m Records
MHN's  Final 2013 Nebraska Boys and Girls Track and Field Leaders
Final 2013 Active Athletes on the Nebraska All-Time Track and Field Charts