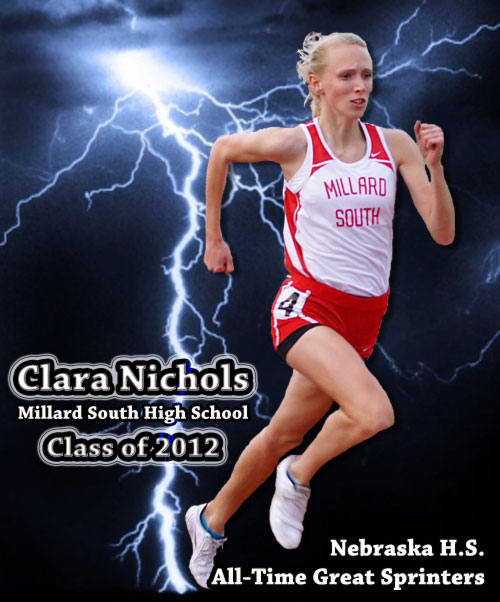 Belated congratulations to former Millard South track star Clara Nichols for winning her first national championship title at the 2012 USA Youth Outdoor Track and Field Championships at the University of Texas-Arlington.
Last Saturday—in near 100 degree heat—the Oklahoma State recruit won the young women 800 meter, coasting to the line in 2:15.87.  Her winning time was more than two seconds off her 2:13.80 PR that she set a couple of weeks ago to win the Nebraska USA Track and Field Junior Olympics 800 meter title. But a win is a win—especially when it's a national championship!
Nichols, running for the Cornhusker Fryers Track Club, also  captured the USATF young women 400 meter bronze medal with a time of 55.62.
The 2012 Gatorade Girls Nebraska Track and Field Athlete of the Year set the Nebraska high school 400 meter state record (55.05) at the 2011 state meet. She followed that performance by sweeping the sprint events on her way to winning  four all-class gold medals at the 2012 state meet.
The track and field staff at Oklahoma State projects Nichols to develop into a top-tier mid-distance runner; however, she will  likely still compete in the 200 and 400 meter sprints while she transitions to the longer races.
Her outstanding stride, speed and competitiveness should serve her well as a middle distance runner. So will we one day see Clara Nichols competing for national and world titles as a collegian and pro?
I sure hope so. She has it in her to do just that!
Related Links
2012 USATF Youth Outdoor Championship Results
Clara Nichols All-Time Great Nebraska High School Athletes Bio