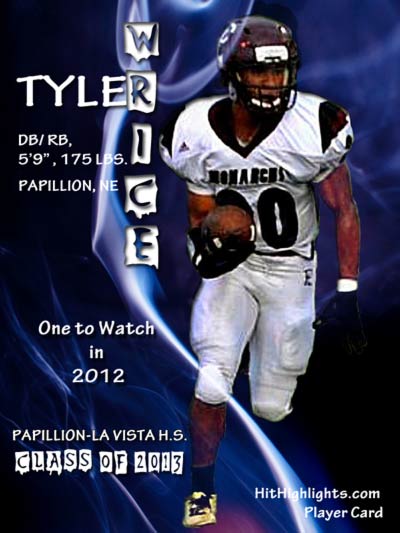 This weekend, on the campus of 2011 FSC national champion North Dakota State, Papillion's Tyler Wrice finally tasted the sweet fruit—borne from his years of grueling workouts and practices—when he got the nod of approval from head coach Craig Bohl.
The offer from the reigning national champion Bison is the first for Wrice but it will likely not be his last.  That's because on both sides of the ball, the 5-9, 175 lbs. DB/RB ranks high among Nebraska's class of 2013 skill position players. In fact when you look at both his skills and talents on offense and defense he is arguably the most talented prospect in the class. More importantly, for long-term success, Wrice's work ethic, focus and—hunger—is without challenge. Simply put: the young man wants to be the best and he works to be the best. Something I'm sure was made evident to coach Bohl and company during Wrice's camp appearance this weekend.
Tyler, who also turned in a stellar honorable mention defensive back performance at the Army combine earlier this year, is next scheduled to attend Kansas University's camp this week.
Stay tuned and anticipate a big 2012 season from Tyler Wrice.